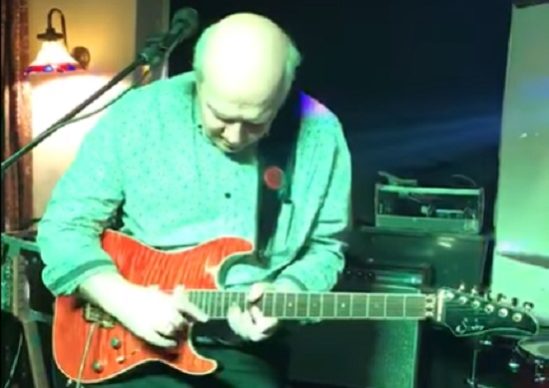 A cool video has been making circles around the web these days, featuring Mr. Kenny Petrie – a guitar champion and a Catholic priest – doing his thing with his band Mr. Spanky and the Hipthrusters.
Kenny caught the attention with some exceptionally killer chops, especially for an elderly member of the community.
The band said on how Petrie joined the gang:
"Approaching the Catholic Church in Braintree, Martin and Tont could hear the unmistakable sound of choir practice… but with a difference. Behind a glorious rendition of Amazing Grace they could hear fantastic licks, picking and soloing on an electric guitar.

"After listening to such hits as 'Kumbaya' and 'Jerusalem' Mr. Naylor took one look at the others, who both nodded in agreement. They'd found their man, Father Kenneth Petrie, or as we know him, The Right Reverend Kenny.

"All it took to secure his services was a small commitment to attend Mass for a month and never to convert to any other beliefs. The rest as they say… is History."
You can check out the clip below.