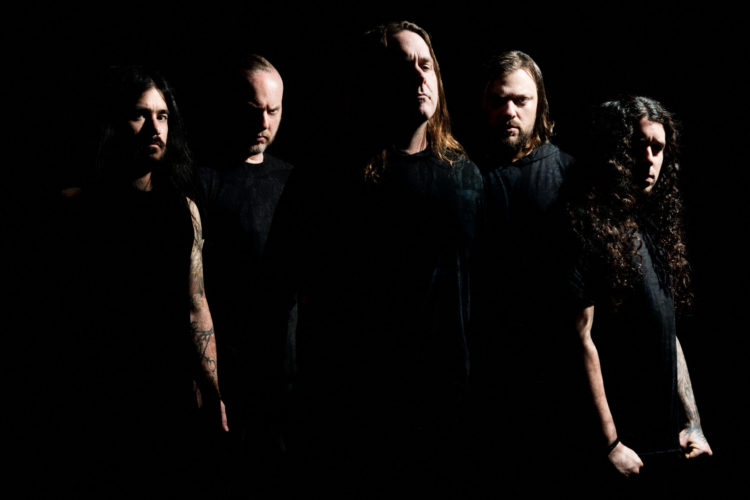 Cattle Decapitation have never shied away from confronting the awfulness wrought upon the natural world by the human race, and Death Atlas is their bleakest offering to date. The cover art says it all, a stooped, skeletal Grim Reaper carrying the burnt-out husk of our planet on his back.
"The core concept of this record is humanity's insignificance despite what we've convinced ourselves," explains vocalist Travis Ryan. "That's kind of why this album cover takes place in space, to remind you that 'the universe always finds a way to purge'. In the grand scheme of things, our species is merely a fleeting thought."
Backing this up with a ferocious soundtrack, it's one of the most shocking and unflinching records of 2019, demanding an emotional response, and forcing people to think about their own contributions to the devastation of the planet.
Four years is the longest gap between Cattle Decapitation records, but with one irresistible offer after another coming in, rather than taking time off and focusing on writing as planned, they repeatedly hit the road. The upside to this was that with new members Olivier Pinard (bass) and Belisario Dimuzio (guitar) joining Ryan, guitarist Josh Elmore and drummer David McGraw, the new lineup had a better chance to bond as people and develop their musical connection, which was only to the album's benefit, and contributed to its inarguably epic feel.
"That's just kind of the direction things have been going for years now, pretty much ever since 'Karma.Bloody.Karma' (2006) but it really ramped up with 'Monolith Of Inhumanity' (2012) and on. We had new blood, and that helped, plus we knew what we were going for, which very much was an 'epic' sound." As intense a listening experience as it is – the word 'extremity' applying as much as it ever has when it comes to Cattle Decapitation – there is also a lot of melancholy in the melodies, which was intentional. "It's a bummer of a concept and is very dark and drab, and the cover reflects this as well with the qualities it has. One of my favorite reactions from people has been when they cry at our concerts. It's happened more than a few times, and it's a very primal, very real emotion. If a metalhead is willing to cry in front of other metalheads, you have done something amazing and that is evoking a very genuine response from a person. It has nothing to do with being sad, emotional or depressed. It's simply just a very real and true reaction to art that I appreciate very much. That was a big influence to me, personally, while writing this record."
It's also a very exploratory record, the band going places they never have before without compromising themselves at any juncture. Death metal, grindcore, black metal, sludge, doom, drone, all of these extreme styles are thrown into the melting pot alongside some more restrained elements, and Ryan's vocals are broader and more fully realized than ever before.
"There's a bit of 'actual vocals' on this one, not just 'the bear and the snake' that traditionally make up extreme metal vocals. I want to take things to literal extremes. The highest screech to the lowest of melancholy singing. I've always been a singer to some degree, but there definitely is stuff on here nobody has really heard me do. I don't want to do sounds just for the sake of them, they need to have their place, they need to evoke something."
Sticking with the 'if it ain't broke…' adage, the band reunited with producer Dave Otero (Allegaeon, Cephalic Carnage) and headed into the studio for the most rewarding recording process of their career.
"It was absolutely incredible. I've never felt so good about how I sounded, Dave crushed his parts, Josh and Bel killed it, Oli killed it, everyone was just nailing their stuff like never before. This is the first album where everything just clicked right into place where it needs to be. We talked about it the whole time, wondering what was going to go wrong, as everything going smoothly and perfectly isn't something we're used to! But it was just the easiest recording we've ever done, by far. Everyone was happy, spirits were up, and we just couldn't be happier with how things went."
Expanding the sound of the record, the band also invited numerous collaborators to come in and work with them. The nine-plus minute closing title track – which Ryan considers to be Cattle Decapitation's finest moment – features Laure Le Prunenec of Igorrr and Ricinn, who Ryan regards as a "phenomenal talent", and her contribution definitely ups the already substantial emotional ante of the track.
"We also had help from Riccardo Conforti of Italy's Void of Silence on an intro to the record as well as Dis Pater of Brisbane's Midnight Odyssey, two bands we're huge fans of. We knew these were the guys we wanted to collaborate with to get the right feeling for the record. We enlisted the brass instrumentalists from Italy's Ottone Pesante for some horns on the Dead Can Dance cover song, 'In the Kingdom of the Blind, The One-Eyed Are Kings' and last but not least, we have the legendary Jon Fishman from Phish lending a narration to the track leading into the title track, called 'The Unerasable Past'. Jon is a big fan of the band and we were happy to have him come on board with the narration, as well as a quote off the top of his head that was inspired by the beautiful area he lives in, and recorded under the Maine night sky."
As the band prepares to tour and hopefully reach places they have yet play, what Ryan wants listeners to take away from Death Atlas is clear:
"I want people to be shocked into thinking more about their futures, their loved ones, the pain they're potentially subjecting their future generations to. Everyone just seems to live in the now with no care for tomorrow and that's incorrect thinking as far as today goes. Don't make tomorrow a cancelled check."
Cattle Decapitation line-up:
Travis Ryan – vocals
Josh Elmore – guitars
Dave McGraw – drums
Belisario Dimuzio – guitars
Olivier Pinard – bass
Read our review here.