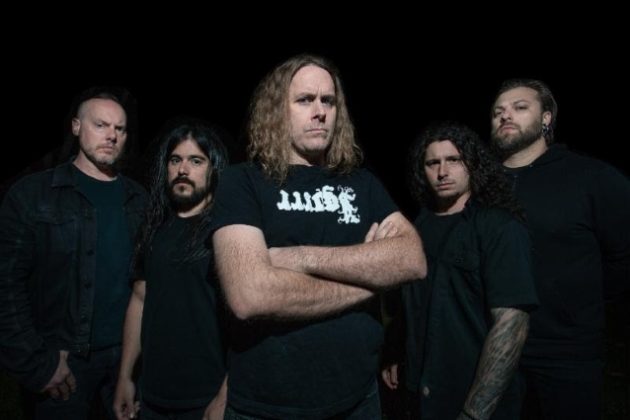 Currently working on the follow-up to 2015's 'The Anthropocene Extinction', CATTLE DECAPITATION has officially welcomed Belisario Dimuzio (Eukaryst; guitar) and Olivier Pinard (Cryptopsy; bass) to their ranks!
The band comments: "We're pleased to announce the new lineup that will appear on our next album due out in fall 2019! Many of you who have come to our shows in the past couple of years have seen that we have had a 2nd guitarist on stage with us for the first time in the band's existence. We proudly welcome Belisario Dimuzio (from San Diego's Eukaryst) as a full-time member, and he will appear on the next album! We're also happy to announce Olivier Pinard (Cryptopsy) as our new bassist, who will be appearing on our next album as well! Oli has filled in on shows with us in the past; the chemistry we have with both him and Bel is undeniable, and we're excited to have them with us. Be sure to keep an eye out for Cryptopsy's next release entitled 'The Book Of Suffering: Tome 2'! Also be on the lookout for a HUGE announcement coming Sept. 20th, regarding a super cool Cattle Decapitation release that has been in the works for a decade now! It's an exciting time for the Decap! Stay tuned!!!"
Cattle Decapitation will perform two shows in Southern California next week with Napalm Death, before heading out on the road again with Suffocation (for vocalist Frank Mullen's final tour!), Krisiun, and Soreption this fall. See below for all dates!
Cattle Decapitation tour dates
w/ Napalm Death, Thrown Into Exile
Aug. 27 – San Diego, CA – Brick By Brick (w/ Beekeeper) – SOLD OUT
Aug. 28 – Los Angeles, CA – Teragram Ballroom (w/ Crematorium)
Cattle Decapitation tour dates
w/ Suffocation, Krisiun, Soreption
Oct. 21 – Wantagh, NY – Mulcahy's Concert Hall
Oct. 22 – Cambridge, MA – Middle East Down
Oct. 23 – Montreal, QC – Les Foufounes Electriques
Oct. 24 – Toronto, ON – Lee's Place
Oct. 25 – Detroit, MI – Magic Stick
Oct. 26 – Joliet, IL – The Forge
Oct. 27 – St. Paul, MN – Amsterdam Bar and Grill
Oct. 29 – Kansas City, MO – Riot Room
Oct. 30 – Denver, CO – Gothic Theatre
Oct. 31 – Salt Lake City, UT – Metro Music Hall
Nov. 1 – Jerome, ID – Diamondz Event Center
Nov. 2 – Seattle, WA – Club Sur Rocks
Nov. 3 – Portland, OR – Lola's Room
Nov. 4 – Oakland, CA – Oakland Metro
Nov. 5 – West Hollywood, CA – Whisky A Go Go **
Nov. 6 – San Diego, CA – Brick By Brick **
Nov. 7 – Mesa, AZ – Club Red
Nov. 9 – San Antonio, TX – Paper Tiger's
Nov. 10 – Dallas, TX – Gas Monkey Bar 'N Grill
Nov. 11 – Houston, TX – White Oak Music Hall
Nov. 13 – Atlanta, GA – The Masquerade
Nov. 14 – Greensboro, NC – The Cone Denim Entertainment Center
Nov. 15 – Baltimore, MD – Ottobar
Nov. 16 – New York, NY – Gramercy Theatre
Nov. 17 – Reading, PA – Reverb
** = No Cattle Decapitation