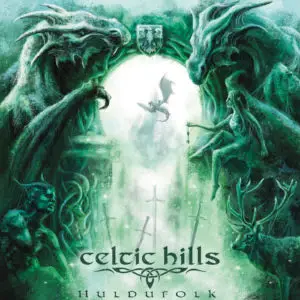 This is exactly the kind of Power Metal that it's impossible to me to say that it's predictable. As a matter of fact, this album "Huldufólk" has many unexpected features for a Power Metal band and album. This combination of Power Metal with many Symphonic elements is the thing that attracts me the most. Add to that all the epic feeling and emotional mooding with insane guitars and flawlees instrumentals my dear fan will get wgat I call best moments of Power Metal. Moreover, add a voice that can go from the highest notes to the lowest ones in a heartbeat. Take a look at "The Hammer of Thor" to get what I'm saying. To give my dear fan a better unbderstand of what kind of music will be found here, Celtic Hills are a kind of where Helloween meet Rhapsody. All the speed and power of Helloween combined with the melodic and symphonic Rhapsody. I guess that resumes it in short. A track as "The Sound of Earth" is a great example of it.
I hadn't been aware of this kind of Power Metal until recently. Well, when I say recently I mean the nineties, ok? hahahahahahahahaha Old man's thing. Old Metal fan thing as well. "Huldufolk" has the combination of the variety of cadence and speed of the 1980s and the power and force of the 1990s mixed with more symphonic elements. "Villacher Kirktag" is a great example of that combination. A song that could have been recorded by Helloween. Following track "Living out of the egg" adds some folk and medieval elements as if it were Rhapsody's with a graspier vocal. This one with lots of keyboardings and a melodic striking and some kind of unpolished guitar solo. On second thought, both tracks have strong 1980s elements. But the keyboardings and the flok medieval features never lie. I guess it would be more accurate to mention that "Huldufolk" has its moments of the 1980s and its moments of the 1990s. My guess is that the 1980s win this one easily as "Words in Out" tells us all. Or even to say that the album starts more nineties and slowly goes turning more 1980s. That wouldnt be wrong if my dear fan cares to listen to all the album.
Here's an album that gave me the goose bumps from the very first beginning. The grand and epic "The Secret of the Grail" is a great appetizer for the album delivering the fan everything Celtic Hills got. "Huldufólk" triggered great memories. Metal music do that for Metal music lovers. No more, no less.
Celtic Hills "Huldufólk" will be released on April 01st.
Track Listing:
The Secret of the Grail
Metal Message
After the Earthquake
Hidden Folk
Green Forest
Gate of Hollow Earth
Living Out the Egg
The Sound of Earth
The Hammer of Thor
Villacher Kirktag
Living Out the Egg  (vocals Simone Cescutti)
Words in Out
Watch official video here: