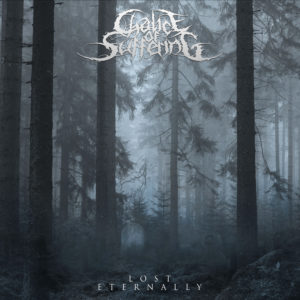 Third Doom Metal in a role. Transcending Obscurity Records did a great job on this series of bands. It's the first time I plan a series of reviews. Of course, it's because I had the chance when I received all those releases. I had, and I took it. Great to have, and pass, a bigger picture of what Doom Metal bands are doing these days. Also, the three bands are very different from each other which takes away the feeling of a monolithical subgenre. It's not. Indeed, they have more things in common than differences, but, in fact, the differences give them their personalities.
Chalice of Suffering with "Lost Eternally" is different from the other two bands I reviewed this week. I usually begin my description of the album by what called my attention. It's a natural way of dong it. I have the duty of describing the album to the listener, and I guess, this helps a lot. Well, that put, vocals are the thing that called my eye due to the extreme ability of changing vocal styles. BTW, It's a great doing to read the release they send us. It avoids mistakes because there I saw that there are three special guests what explains all the changing styles. As I said before, Chalice of Suffering aren't a monolithic band. It's true that when you listen one of the seven tracks "Lost Eternally" you feel it's a doomy band. That's crystal clear, but Chalice of Suffering do a real trip around all the possibilities to explore.
The other that called my attention is in fact two things – hahaha, got it? No, that's true. Two things. The first of them is the connection with 1980's gothic bands. There's such a string taste of Bahaus and The Cure. No wonder as they are the pioneers of this dark and dense musical atmospheres. Doom fans know it well, so I won't take long on it. The second thing is the great taste of The Doors that I felt in all tracks. Chalice of Suffering touched perfectly that dark side of Jim Morrison as he showed in "The End." Besides all the weird stuff that was going on, The Doors did have a dark side. Unfortunately, there wasn't enough time to explore all of it. For all of our's sake, Chalice of Suffering got it right and explored it. "Lost Eternally" stands out because of all this.
Chalice of Suffering "Lost Eternally" will be released on April 19th via Transcending Obscurity Records.
Track Listing:
In the Mist of Once Was
Emancipation of Pain
Forever Winter
Lost Eternally
The Hurt
Miss Me, But Let Me Go
Whispers of Madness
Watch "In the Mist of Once Was" official video here: