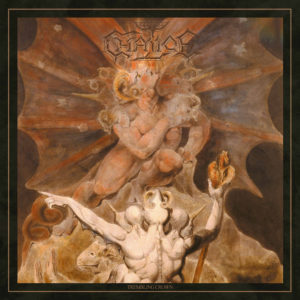 Well, my child iof the night, this is the first review of 2021. An year that lies back on everything that happened in 2020. I mean, the social tragedy we had and it's still with us. While many people in this sad and lonely and pathetic little world wait for the vacine we start with a band that in fact we should have reviewd last year. This review was being cooked for such a long time. The thing is that I decided to give me some time to recharge my batteries to start this new year with everything I got after my 1,000th review.
Ok, then, so let's go for it. It seems to me that Chalice are a synonym of NWOBHM, aren't they?
I thought so when I got this new effort from the band. I thought I got the new release of the famous band. Or I confused… I don't really know, but as I gave it a lot of thought I went to Google to find information of the band and I got even more confused… Maybe I confused with the great Malice, I guess. Not that impossible. So, I went to the the press release my partners always send me and I discovered this "Trembling Crown" is a debut record. Well, that's why I was wondering why it is so different from the band I imagined.
"Trembling Crown" is a great record that brings lots of influences in it from the good old NWOBHM to some gothic efforts. The fan will feel that there's something different in each song. There is a hidden liricism that catches the fan and makes the songs even more attractive. This album is a very creative mix of the old and the new, if you know what I'm saying. This melt gets even more interesting as the album goes on and on. In fact, it's an album to go enjoying slowly and with all the coolness that there is in this pathetic planet.
Chalice "Trembling Crown" was released on December 11th via High Roller Records.
Track Listing:
Night's Hands
Trembling Crown
Hunger of the Depth
Karkanxholl
Wings I've Known
The Key
Stars
Watch "Trembling Crown" official track here:
Track Listing:
Watch