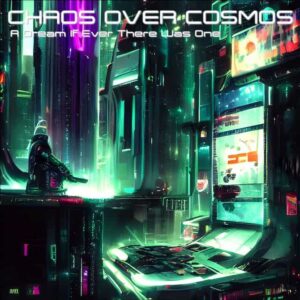 Some albums do bring some good news. This one "A Dream if Ever There Was One" from Chaos Over Cosmos brings two in a role. First of all, and maybe the most important, this is the following of 2021's "The Silver Lining Between the Stars" and 2020″s "The Ultimate Multiverse," which both brought a very interesting sonic proposal that was to mix Technical Death Metal with sci-fi themes and some ethereal and space rock features. This album also brings a more modern Metal approach via vocals and the aforementioned effects and some more that came from Techno and other electronic beats. On the plus side, Chaos Over Cosmos go on with their furious approach bringing and album of so many tracks that any death metaller will have his/her jawbreaking. Second, as my dear child of the night saw this is one more album that is a following in this year of following albums.
If memory serves me right, both "The Silver Lining Between the Stars" and "The Silver Lining Between the Stars" didn't have this modern metal grip with all these electronic effects and white noise that goes for the ethereal a space rock. They did have this Technical Death Metal grip with a strong guitar lead. That I do remember well. By the way, the guitars are the highlight of the album. Each track features a different guitar approach being all very technical and interesting. The drumming is also something out of this world – no pun intended. Amazing blast beats, constant change of tempos and cadences, creative fillings and much more. Now that I mentioned the drumming I saw by the press released that it was a drum programming. Wow, I couldn't help to mention that I couldn't see that the drum programming was able of all this. Album welcomer "Continuum" introduces the fan to the cosmic atmosphere of the album. By then, I thought it would an instrumental album, but I was flat wrong. "Ebb and Flow[ers]," the longest track of the album brings a more intimate atmosphere with some Progressive Metal touches. The track mixes all the influences Chaos Over Cosmos have and for this is a great sample of what the album offers my dear child of the night. I recommend to start the fruition by it.
I found the contrast here pretty amazing thought sometimes I think Chaos Over Cosmos exagerated on the electronic aspects. But this is only my opinion, as I said the contrast works great. It's always great to listen to something that goes a littel out of the box. From where I'm standing, "A Dream if Ever There Was One" does this with flying colors. As things go by let's expect for the following album next year.
Chaos Over Cosmos "A Dream if Ever There Was One" will be released on November 11th.
Track Listing:
Continuum

Fire-eater

Navigating by Moonlight

A Mantra of Oppression

Ebb and Flow[ers]

Melatonin
Watch "Fire-eater" official video here: