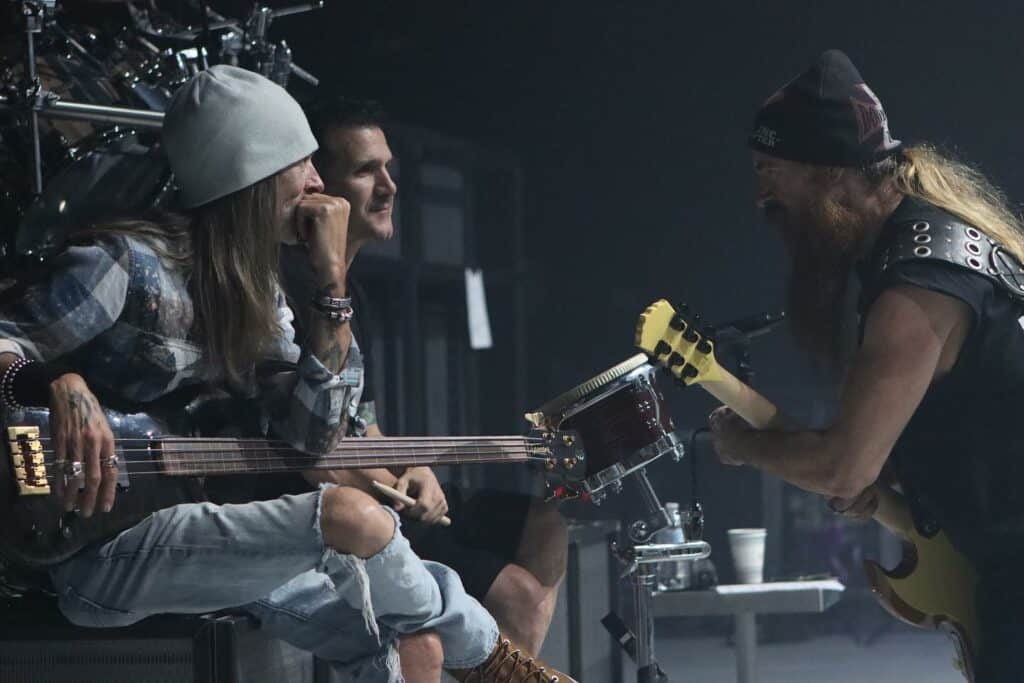 During a recent appearance on SiriusXM's "Trunk Nation With Eddie Trunk," ANTHRAX drummer Charlie Benante reflected on PANTERA's Hell & Heaven concert, which marked band's first live show in over 20 years.
As previously reported, PANTERA surviving members, Philip Anselmo and Rex Brown, reformed the band with Zakk Wylde on guitar (from OZZY OSBOURNE and BLACK LABEL SOCIETY) and Charlie Benante on drums. They will be playing at festivals all over North America, South America, Europe as well their own headline concerts.
On Hell & Heaven performance, Benante said: "Basically, we get up there and there's a big kabuki curtain in front of us and the four of us just up there. And Philip came up to the drum riser and we just had this moment where we were shaking hands. We were so excited. And then I looked to Rex and I looked to Zakk, and the four of us just had this connection. And before I knew it — boom — we were right into playing 'A New Level.' And it was off from that point. And I was looking at the setlist, and I saw the next song coming up, and I was excited about that song. And then that song would finish, and I looked down, and I'm, like, 'Oh, I f**king love this song. Yeah!' It was that all night for me — just getting super hyped up about the next song and what was coming up. So I enjoyed myself."
"One thing I spoke to those guys about months ago, I said, 'Man, let's just try and be in the moment and just enjoy it.' And that's what we all did — we just kind of enjoyed it."
Charlie went on to say that the setlist for their PANTERA performance at Hell & Heaven was created collaboratively between him and the other members.
"Actually, Rex, myself and Philip, we were on a call and we basically came up with the setlist. And I remember saying to them, 'You guys are really close to this stuff. From my point of view, like a fan, man, these are the songs that, of course, must be played.' And, of course, they agreed with that. But then there were some deep cuts that we wanted to do too. And they were welcome to it. We even talked about adding more songs to the setlist for next year. So everybody's pretty much open. The way I kind of looked it is, 'Let's try and hit every record. Let's try and do a song from every record at least.' So that's what we're trying to do."
"For this run here in South America, we're gonna keep [the setlist] as is, but next year I can see a song or two being dropped and replaced with another song. We already talked about that the other day."
Charlie also said that he doesn't understand all the negative comments that have been directed at him and the other members of PANTERA for trying to keep the band's legacy alive.
"This was never a reunion," he explained. "How can it be a reunion without Vinnie and Dime here? Sometimes people will send me something, and I see things online, and it's so disrespectful to both Darrell and Vinnie, and it's totally disrespectful to us too. And it's just, like, 'Man, if you don't wanna come, you don't have to come.'
"One of the first things I said to Philip on the phone, I said, 'This, to me, is more on an emotional level than any other level.' This means a lot to me personally, to go out there and represent those guys and represent the PANTERA name. And that's all I'd ever want for me. I don't care about it financially and stuff like that; this, to me, I had to do this. I didn't wanna see anybody else playing these songs but me up there."