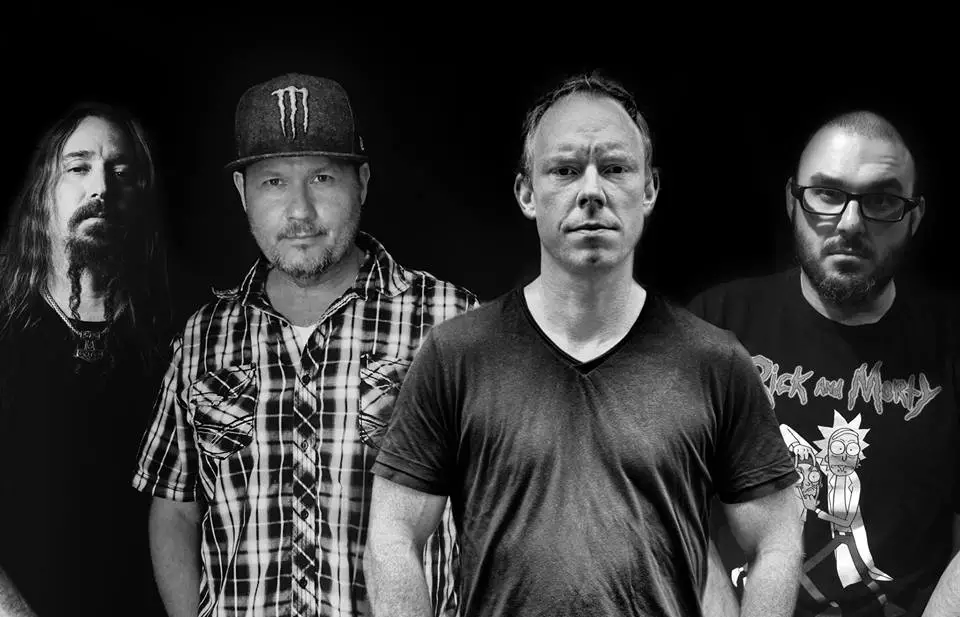 CHARRED WALLS OF THE DAMNED – the brainchild of former Death/Iced Earth drummer Richard Christy – will release their third full-length, "Creatures Watching Over The Dead", this Friday (September 23rd) via Metal Blade Records. In addition to Richard's storied career as a drummer, he has been a staple on The Howard Stern Show for his diaper wearing and crank calling antics. Today both of his worlds come together as the CHARRED WALLS OF THE DAMNED album "Creatures Watching Over The Dead" is available as an exclusive stream in advance of the release and it can be heard below.
"Creatures Watching Over The Dead" can be pre-ordered in various formats now at: metalblade.com/cwotd
With five years having elapsed since the quartet dropped "Creatures Watching Over The Dead", it's understandable that fans have been yearning for more, but CHARRED WALLS OF THE DAMNED has not exactly been sitting around, kicking their heels. Christy – who has previously played with Iced Earth, Death, Control Denied, Burning Inside and Leash Law – played drums on Monte Pittman's 'Inverted Grasp Of Balance', wrote music for New York State's "The Great Jack O'Lantern Blaze" event, and co-wrote a heavy metal comedy Viking rock opera with guitarist Jason Suecof and Titmouse Animation, titled "Majestic Loincloth". Suecof is of course one of the most in demand producers in contemporary metal. Then there's legendary bassist Steve DiGiorgio, who made a name for himself in the ranks of Death, Testament, Vintersorg, Dragonlord and a myriad of other great metal bands; in recent years, he has laid down his inimitable style on records from Ephel Duath, Soen, Memorain and others. Which just leaves vocalist Tim "Ripper" Owens, who for a time fronted Judas Priest, before lending his formidable pipes to Iced Earth and Yngwie Malmsteen's mighty compositions, touring relentlessly under his own name, and starting a new band (Project Rock).
When it was time to lay the songs down, CHARRED WALLS OF THE DAMNED convened at Suecof's Audiohammer Studio, outside Orlando, FL. The nine resulting tracks are heavy, catchy, anthemic and downright killer music to wreck your neck to. See below for the official track-listing!
'Creatures Watching Over the Dead' track-listing
1. My Eyes
2. The Soulless
3. Afterlife
4. As I Catch My Breath
5. Lies
6. Reach into the Light
7. Tear Me Down
8. Living in the Shadow of Yesterday
9. Time Has Passed
[soundcloud url="https://api.soundcloud.com/playlists/260537520?secret_token=s-lvjfq" params="color=ff5500&auto_play=false&hide_related=false&show_comments=true&show_user=true&show_reposts=false" width="100%" height="350″ iframe="true" /]