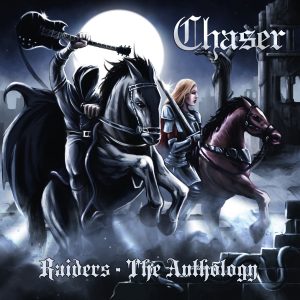 That's really an album with history, but not so uncommon among bands in the 1980s. In 1984, Chaser managed to release a single named "Raiders". And that was all. As many bands of that time, Chaser split up and no one knew anything else about them. It happens that between 1984 and 1987, Chaser got to record professionally 15 tracks, a full album. For reasons that nobody will ever know, the songs kept unrecorded until 2016 when master Bart Gabriel and Skoll Records decided to remaster and release them under the name Chaser – "Raiders The Anthology". And we, lovers of the golden era of Metal, give a big hail to them!
Chaser – "Raiders The Anthology" is a pure and cristal piece of NWOBHM in its very first years. I mean, in songs like "Raiders" there are a lot fo references to 1970s rock. So you can notice the sonic evolution. "Salute The Warrior" guitar riff, for instance, reminds a lot Judas Priest's Victim Of Chances. Chaser also kept a healthful tradition of that time, which is recording an instrumental song as "Octopus". Maybe because of the three-year hiatus among the songs, on the tenth track, "On My Own", we feel a big change of heart. The pace changes a bit. The singer sounds a little more gritty, and the songs are better written and produced. And the choruses get more proheminent as in "Dressed For The Kill".
Listening to Chaser – "Raiders The Anthology" one can even tell where Metallica took their inspiration. For instance, take a good look at "Backstreet". As we all know, Lars and his mates are big fans of NWOBHM bands. Well, it was really worth the thirty-year wait. Better late than never!
Track Listing:
Raiders
Final Stand
Bad Lover
Crucifix
Chaindriven
Dressed For The Kill
Sudden Break
Salute The Warrior Queen
Octopus
On My Own
For King And For Country
First To Fall
Tragedy
Dressed For The Kill
Backstreet
You can listen to "Raiders" here: