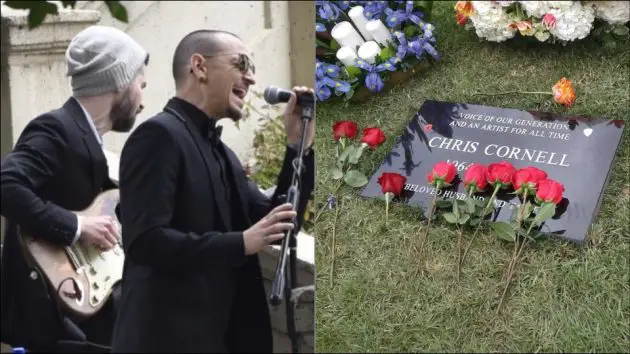 LINKIN PARK's Chester Bennington and Brad Delson performed Leonard Cohen's "Hallelujah" during Chris Cornell's funeral at the Hollywood Forever Cemetery.
Cornell was laid to rest at Hollywood Forever Cemetery in a ceremony that opened with the sound of the Cornell's recent song "The Promise." Others spotted at the service included actors Brad Pitt, Christian Bale, Josh Brolin, James Franco, and Fred Armisen. Cornell's former bandmates Thayil, Cameron, and Morello all delivered eulogies as did Ament and Brolin. "Chris was as melodic as THE BEATLES, as rocking as SABBATH, and as haunting as Edgar Allan Poe," Morello said.
Cornell was known for his role as one of the architects of the 1990s grunge movement, for his extensive catalog as a songwriter and for his near four octave vocal range as well as his powerful vocal belting technique. He released four solo studio albums, Euphoria Morning (1999), Carry On (2007), Scream (2009), Higher Truth(2015) and the live album Songbook (2011). Cornell received a Golden Globe Award nomination for his song "The Keeper" which appeared in the film Machine Gun Preacher and co-wrote and performed the theme song to the James Bond film Casino Royale (2006), "You Know My Name".
https://www.youtube.com/watch?v=ypVeJ6x75wk
.@ChesterBe & Brad performed 'Hallelujah' at Chris Cornell's funeral. Heartbreaking performance 💔 #RIPChrisCornellhttps://t.co/vY8rUKSW4n pic.twitter.com/p3WnNWcBHp

— Linkin Park Live, Obviously Not Actual Linkin Park (@LPLive) May 26, 2017