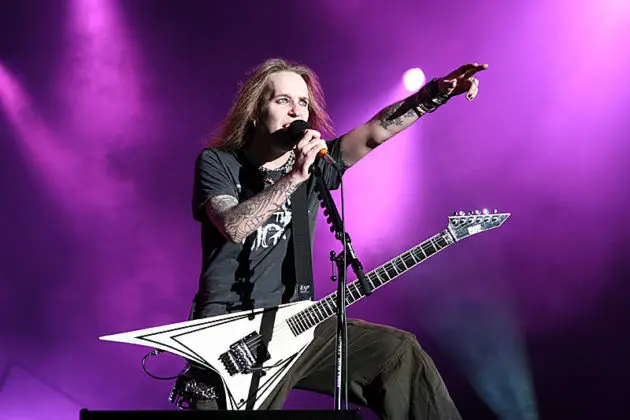 In an interview with Shred Shack, CHILDREN OF BODOM frontman Alexi Laiho was asked how former NORTHER guitarist Daniel Freyberg is fitting in with CHILDREN OF BODOM since stepping into the group nearly two years ago.
Laiho responded: "He fits perfectly on every single level — totally.
"There's always hesitation when it comes to a new band member, especially with us, 'cause it's always been a very important thing for us to maintain the same lineup. We grew up together and we went to the same school — we basically started the whole thing when we were 13 or 14 years old, so we're super tight — and to bring somebody new into the group, it [is very crucial to find the right person].
"There are great players all over the place, all over the world — great f*cking guitar players, you'll never run out of 'em, better than I am — but that's not the problem here," he continued. "The problem is the personality and can you live with them on the tour bus? And also, how does it look on stage? I mean, all those things — what the dude looks like and his whole attitude towards music and so many non-musical factors. I think, for me, those kinds of things are just as important as the musicianship. I mean, that should be sort of taken for granted. If you call yourself a musician, you should be able to know how to play already — that shouldn't be even a question. So then you've gotta start figuring out whether he fits the band and whether he has the right attitude and whether he's rock and roll enough to do this sh*t."
Laiho also talked about the progress of the songwriting sessions for the follow-up to 2015's "I Worship Chaos" album. He said: "It's [going] good, man. Actually, we were supposed to record it this fall originally, so I started writing in April. 'Cause that's when I had my [shoulder] surgery. I'm still recovering. But I started writing songs anyway, and we started practicing during summertime. But then this tour thing came up. 'Cause we were supposed to be done touring already — we had been on the road for, like, a year and a half. But then our management came up with the idea to do the 20-year thing ['20 Years Down & Dirty' tour] in the U.S. too, and we were, like, 'F*ck, yeah. We'll do it.' 'Cause we were kind of bummed out that we couldn't do it in the U.S., 'cause we had a lot of fun in Europe too. [But the songwriting is] going good. We've got, like, four or five songs. So it's getting there."