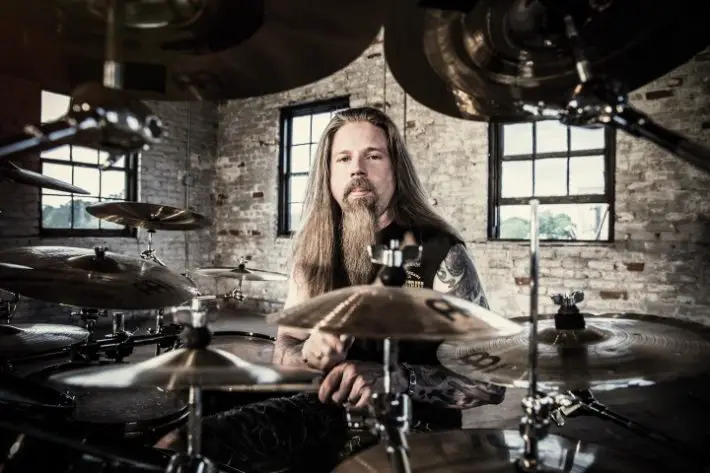 During a recent episode of The MetalSucks Quarantinecast, drummer Chris Adler and guitarist Myrone talked about their new project FIRSTBORNE.
When speaking on how he discovered Myrone's music, Adler said, while also offering a bit more details on his departure with LAMB OF GOD in 2019: "Now [discovering Myrone's music] didn't necessarily start us off into a process of making music together. Shortly after that was kind of my departure from LAMB where it's like, well I'm not leaving this 'cause I don't want to play music and I'm not leaving this 'cause I don't want to play the kind of music Lamb is playing. I'm leaving this 'cause… it's just toxic. Everywhere. Everything. And I've got to be a better father, husband, person than what this is dragging me into.
"And one of the things that happened in this conversation that I was having with Myrone — which I still think back on, and at the time I didn't really quite understand it as much as I do now — I asked him, 'Do you wanna get together and maybe throw some files around and see what happens?' And he was like, 'Yeah, but it's gotta be fun.' He didn't say it [like that], but I understood what he was saying.
"What I do and what I'm known for is not particularly… like, it's not a birthday party, it's not fun. That doesn't mean… If you're good at addition it doesn't mean you should stop there and keep doing addition for the rest of your life. Maybe you should take algebra, maybe you should take calculus, let's move on from that point. And I know I'm known for that particular thing, but I was like, 'Oh man, I don't know how long it's been since I've actually had fun doing this.' And I love that vibe about him. It was just great to think about that for a second. Oh wait, I can still, the same way I wanted to when I was 14, 15, make a band and have fun?
"That was off the radar at that point because success had bred so much jadedness with everybody, and the whole industry, as we all know, is just brutal. In that we're able to do it on our own, we're just having fun. So it was a really great connect that we had in that way.
"Then we're trying to figure out, cause I'm sure Myrone, at that point, at many points, had felt like — and Girish [Pradan, vocals] and James [LoMenzo, bass] — I remember James coming up to me and being like, 'Dude, are you sure you wanna do this? Your [fans] don't understand what it is to enjoy music.' I'm not doing this for a popularity contest. I always want to have fun doing this. And we did in LAMB OF GOD for a very long time but it got bogged down in everything else and what we're supposed to do and who we supposedly are. I love this idea about stretching it out."
He continued: "There's a lot of hate [from fans] like, 'Oh my god, you left LAMB OF GOD for this, what the f*ck is this?' It's like, 'Uhh… fun?' Like… I'm just living my life with a smile. Because before it was like frown-town all the time. Like what the hell is going on here, we don't know what the hell is going on, hopefully everybody beats the sh*t out of each other and we just get a check. So you know, it's just time for me as an adult to kind of move on."