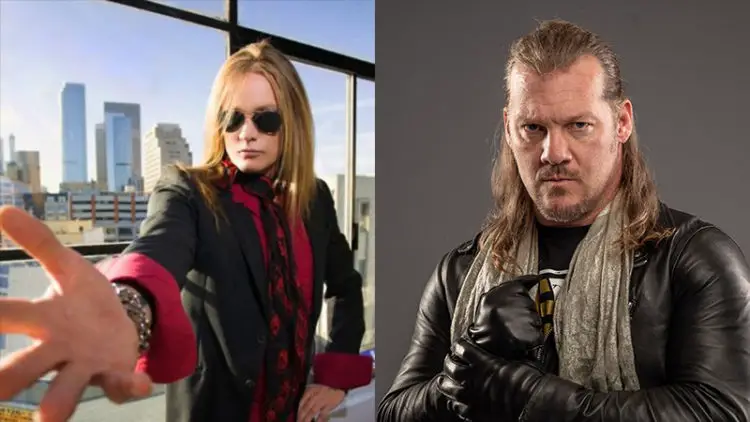 During a recent episode on "Shout It Out Loudcast," FOZZY frontman Chris Jericho joined hosts Tom, Zeus and Sonny to review the second album from SKID ROW, 1991's Slave To The Grind.
Speaking about SKID ROW's untimely 1996 split with singer Sebastian Bach, Jericho said: "Had there not been a complete sea change and shift in musical styles, and had Sebastian and the guys not completely broken up forever, they could have been a GUNS N' ROSES level, a JUDAS PRIEST level. Not an IRON MAIDEN level — not a GUNS N' ROSES either — but they could have been that second tier of main-event-level bands.
"Because, two reasons — one, dudes like us like the music; heavier guys like PANTERA like the music; and here's the most important thing. You know what I'm gonna say. The chicks love the music and they love Sebastian Bach, who, at the time… I used to say, if you could into a laboratory and you were a mad scientist and create the perfect rock star, Sebastian Bach would be the perfect rock star — all cross the board; he checks every box in everything. And so I think that's another reason why SKID ROW was able to bridge the gap. It could have even gone farther because the girls really enjoyed the band as well."
He continued: "The first [SKID ROW] album, pictures aside — you look at the first GUNS N' ROSES album pictures; there was a lot of hairspray and all that sort of stuff — but they had an East Coast GUNS N' ROSES vibe, where even though Sebastian Bach was pretty, he was tall, we know he was off his rocker because we heard the stories.
"Other guys looked pretty nutty. Rachel [Bolan, bass] was very punk rock. They weren't pretty guys. Snake [guitarist Dave Sabo] is not a good-looking guy. And if he was on the show right now, he'd be laughing, saying, 'I'm the ugliest guy ever.' Best guy in the world, by the way — Snake and Rachel are just amazing guys… But they never tried to be that way; they weren't trying to shove it into the bag. They knew what they looked like, and they knew it was cool, 'cause they did look cool. But they didn't look pretty. But that worked to their advantage, much like GUNS N' ROSES as well."
In 2020, Bach slammed Jericho over allegations that the FOZZY frontman uses pre-recorded vocal tracks during live performances.
Bach initially accused Jericho of "miming to a tape" at FOZZY concerts in a social media post. In response, the wrestler-turned-rocker insisted that he had "never mimed anything ever" and challenged Bach to a "singoff" with "no effects, no tuning, no bullsh*t", saying "Bas is a great singer…but I'm better."