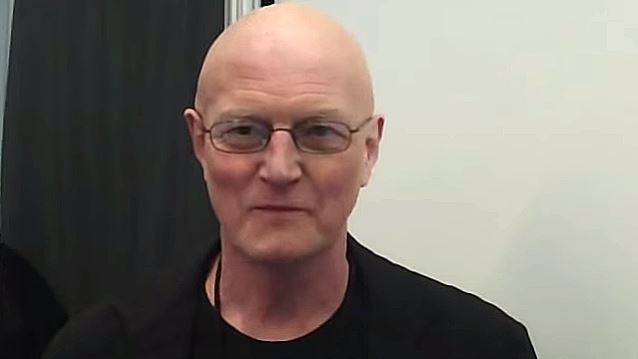 This past June, AC/DC's drummer for the "Rock Or Bust" tour, Chris Slade, was intervewed by France's United Rock Nations. The chat took place just several weeks before AC/DCmembers Brian Johnson, Phil Rudd, Angus Young and Stevie Young were all photographed outside Vancouver's Warehouse Studios.
When asked what the "mood" is like right now within the band, Slade responded:
"It was very sad when Malcolm [Young, AC/DC rhythm guitarist] passed, of course — very, very sad. He was a genius — an absolute genius. And the combination of him and Angus was magic — it was a magic combination. And, of course, the same with Cliff [Williams, bass]. It's sad [he left], but I understand. He wants to go fishing [laughs] all the time. His son is a fisherman, so he wants to enjoy time with his children and maybe grandchildren — who knows? [Laughs] He's been there 40 years. But the thing is, you must remember there's been five years between every album and tour.
"The mood, it's absolutely fine," he continued. "The last time time I saw the guys was at the end of the 'Rock Or Bust' tour. Yeah, everybody was fine. Malcolm hadn't passed yet, and, of course, I'm sure it hit Angus very, very hard — as with all of us, actually. And just before him, brother George [Young] also died, so it was a very sad time. So I think the mood is probably appropriate for those things that have happened. And as people say, time is a great healer. So you never forget them."
Asked what the future holds for AC/DC, Slade said: "You'll have to wait and see. Along with everybody else — including myself."
He was also asked if he had an audition for his comeback, to which he replied:  "No. They didn't even audition Phil when he came back in [in 1994]. And they should have. [Laughs] I'm sorry, but that's true. [Laughs]"
Talking about the recent changes in AC/DC, he said:  "It's different, obviously. It can't be the same, except the music is the same. The only thing that changes is the singer. And Axl [Rose] did a great job. He did an amazing job, actually. People sometimes listen with their prejudice. And people also listen with their eyes, they don't use these [ears] sometimes. They just use this [eyes], or like, 'Eh, I don't like him.'
"It doesn't happen so much now, but when I got back in, it was, 'Ah, Slade can't play drums. He's useless. He's absolutely useless drummer. He should go and have lessons so he can play like Phil.' That happened a lot. And it's like, people are listening with this [eyes] and going, 'I don't like him.' They don't listen with their ears. I understand people's prejudice, but yeah…"
Watch the entire interview below.