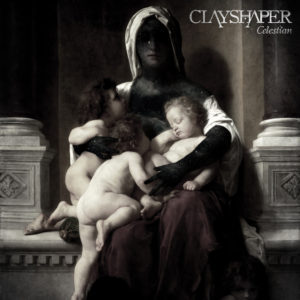 Have I told you how I adore Melodic Death Metal? I don't think so. I guess I haven't enough because every time I hear a band like Clayshaper and their album "Celestian" my ears nd mind go wild. I mean, it's the greatest experience to listen to something you really like. It's an experience I do recommend. I guess I have told that the thing that attracts the most is the sound of the melodic guitars contrasting with the anger and harsh vocals in this album which is simply amazing. The melodic guitar phrases and their contrast with all the musical chaos and distortion are the things that drives me on about Melodic Death Metal. Clayshaper take the experience to another level of ansanity here in "Celestian" I ought to say.
When you write lots of reviews as I do of so many bands of the same Metal style, the thing you have to do is look for the thing that stand the band out from the crowd. That little feature that makes the band unique from all. Every album has that thing. You simply ought to be patient and listen carefully the times necessary to get it. Some albums are easier than the others. Regarding to "Celestian" the thing is the neat instrumentals. I mean more specifically the guitars which do their best in the four tracks in the role with instrumentals only. More remarkably is the last, but not least, track Beyond Silvered Light with amazing melodic guitar phrases which lead the song the way tradition tells with amazing leading phrases. Pretty good experience this song give us.
In fact, the album is clearly divided in two completely different pieces. One is regular Melodic Death Metal and the other is the four instrumental tracks I talked about. Well, one man's meat is another man's poison so they say. In order to create this instrumental prowery, "Celestian" does loose a bit of its grip, of its power. Nonethless, to a regular Death Metal fan, the songs sound too soft. From where I'm standing, it is something forgivable due to the extreme pleasure the songs bring us. Okay, it's only my opinion and it is possible to buy the CD with it and fifteen bucks.
P.S.: It wouldn't be fair to the band and skip to mention the amazing, and creative, art cover.
Clayshaper "Celestian" was released on February 20th.
Track Listing:
Celestian
Sunender
About to Appear
Beyond Silvered Light
Celestian (Instrumental)
Sunender (Instrumental)
About to Appear (Instrumental)
Beyond Silvered Light (Instrumental)
Watch "Celestian" official music video here: