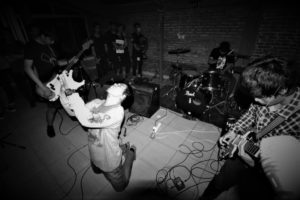 Cloudburst are a metallic hardcore band from Yogyakarta, Indonesia. Formed in 2011, they released both a demo and a split album (with hometown friends Warmouth) in 2014.   Their first full length,  016's "Crying of Broken Beauty, "was critically acclaimed by the Indonesian  Metal/hardcore press and included in The Metal Rebel's 20 Best Indonesian Metal Albums 2016.  The band toured Indonesia in support of this album, also making stops in Malaysia and Singapore.
Now Cloudburst are back with self-titled album, coming out January 4th 2019.  The nine tracks embody a metallic hardcore aesthetic, full of discord and brutality yet still melodic and charming.  The chaotic influences of bands like Converge and Botch mix seamlessly with shredding guitar solos from Slayer, Keith Moon-ish pounding drums, and maniac vocals reminiscent of Pig Destroyer and Cattle Decapitation.
Stream the opening track "Strange Acrobat" here.
Read our review here.