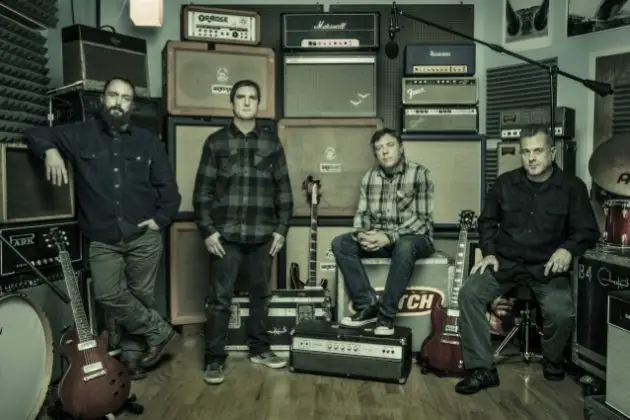 Maryland rockers CLUTCH have been forced to cancel last night's (Saturday, October 27) concert at the Irving Plaza in New York City after singer Neil Fallon mysteriously passed out while out for a walk in Secaucus, New Jersey.
Fallon explained the incident via a series of tweets. He wrote: "Regarding tonight's cancellation at Irving Plaza. It's me. Again. In the early afternoon I went for a stroll. I became light headed and dizzy. Next thing I knew I was coming to on my back in a puddle of water with 2 Secaucus policemen and paramedics staring down at me.
"I took a header on the sidewalk. Was taken to the ER. Thankfully, both the EKG and CAT scan came back normal. I was diagnosed with something called 'Near-Syncope,' which, as far as I can tell, is the medical term for 'We have no idea why you passed out, but ya did.'
"Apologies to all the folks who made plans to come to the show but the doc says no. Believe me, no one is more pissed about this than I. We'll be on tour for quite some time in 2019 and we'll certainly try to get an Irving Plaza date in there.
"One last note, the EMT, Paul, is a huge CLUTCH fan. It was good to meet you, Paul. You're on the guest list for life. Thank you."
https://twitter.com/npfallon/status/1056323009164673024
https://twitter.com/npfallon/status/1056323011656077312
https://twitter.com/npfallon/status/1056323013514211328