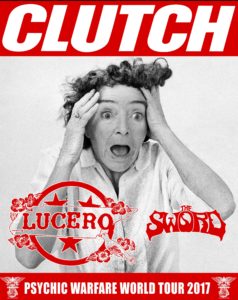 "Clutch's music gets people moving, and the high energy performance had the crowd doing that in a beautifully chaotic storm of chanting, fist pumping, horns held high, bouncing, moshing, crowd surfing, singing and every other thing that makes a great rock show a spectacle to behold."
I wouldn't say I'm a huge Clutch fan, but we go way back to 1992. I was fresh in the U.S. Army and finding my personal musical identity as an adult. Through my new ever growing network of friends, I was exposed to a huge amount of music that was new to me from all over the world. I started finding bands like Clutch, Priums, Prong, Pantera, Morbid Angel, Korn, and Marylin Manson. I found a new appreciation for experimentation in music. Clutch was a big part of opening my eyes to what could be. They were likely the first band that really showed me a fusion of styles mixing traditional rock, hard rock, hardcore punk, blues, psychedelic, and metal. Their unique style left an indelible influence on me.
The show was at at the new 20 Monroe Live concert theater in Grand Rapids Michigan. This venue has already had many amazing rock shows since its opening in February, and this show was no different.  This show was part of the Psychic Warfare World Tour 2017 with Lucero and The Sword in support. It did strike me as a bit of an odd pairing, but Clutch have always been an odd group with few if any real peers.
The sword opened and their combination of metal, hard rock, and stoner metal fit pretty well with Clutch. They sounded great and did a good job of getting everyone in the right mindset for a Clutch show. Songs like 'Tres Brujas', 'New Jam', 'Seriously Mysterious', and 'Dying Earth' speckled their 10 song set and prepped my mind for the impending 'Psychic Warfare' that was to come. If I had any criticism it would be that the band seemed very static that night. It could just be me being overly critical. They were not as visually interesting as I would expect from a band that has opened for several big names and played with Clutch a fair amount over the course of their 14 year career.
Lucero provided immediate support to Clutch. They play a fusion of soul, rock, and country that is uniquely them and maybe that's why they belong on a bill with Clutch. This fusion of styles that was first introduced to me all those years ago by Clutch. The set list of the night had some rocking songs with cool solos, but the 11 song set had several songs that were much slower and way more country than one would expect form a Clutch show. This is where the pairing seemed odd. Lucero played extremely well and in my opinion their live set sounded better than their recordings. The vocals seemed more authentic and heartfelt. They played several of their more popular songs like 'Hello Darlin' Do You Gamble', 'Nights Like These', and 'The War'. I would recommend seeing them, but with their slower pace and reflective lyrics they seem better suited to a Lynrd Skynrd or a Black Stone Cherry show than with the pure rock fury that is Clutch.
Clutch was everything I had hoped! They were excellent from start to finish. You never hear about a band that has so and so from Clutch. Because these guys have all been together in high school and for the entire 26 years and running that Clutch has existed. This long-term familiarity has them functioning as an exceptionally cohesive unit that delivers live what you expect from them and more. As a friend of mine put it, frontman "Niel Fallon is a godd@mn madman!" I would agree. Neil parades about the stage contorting and making gestures with his hands and face like that of a mad sideshow evangelist, while belting out lyrics in a rhythm that is all his own.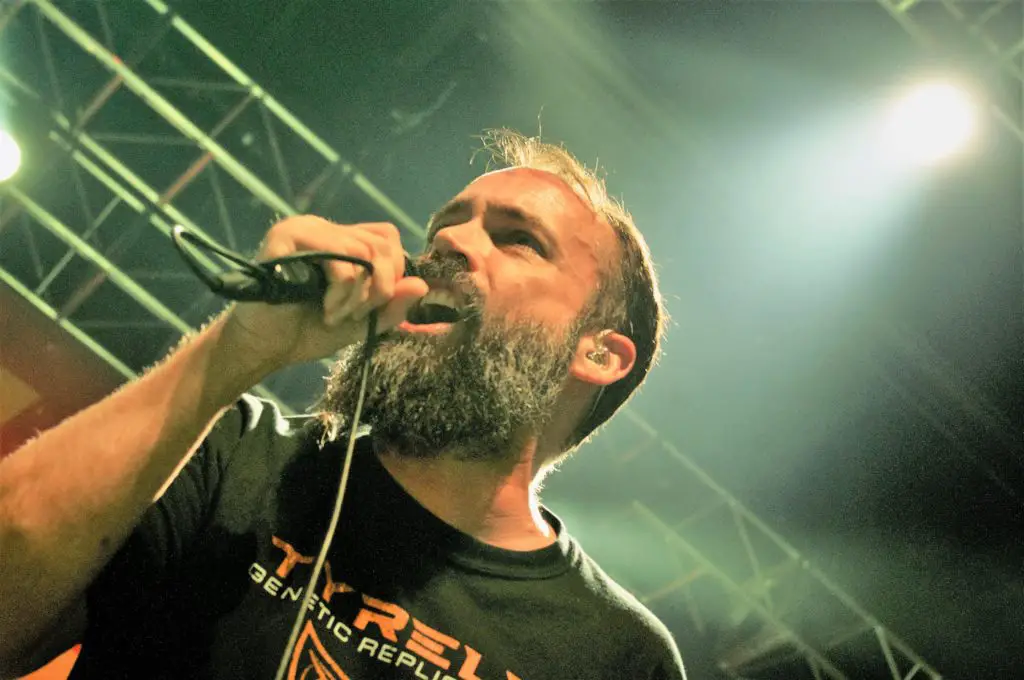 From start to finish Psychic Warfare is solid and arguably their best work. That says something from a band that has been together for a long time. They are not simply coasting on a reputation like some bands. Clutch rocked out 18 songs spanning their career; mostly from 'Pyschic Warfare' and 'Earth Rocker'.  Neil didn't slow down all night. He must carb-load and guzzle 5hr energy drinks by the pitcher. You can't be disappointed by such a great high-energy performance, even if your favorite songs don't get played. Clutch isn't like most bands that play either a set of only greatest hits, or the current album with a few hits mixed in. I understand that their sets lists change nightly, as the guys take turns making them.  This is a great way for them to keep from burning out on the same songs, and if you catch them twice on the same tour it's not just more of the same. Whoever, wrote this set list either hated me or wanted to expand my horizons as my top 3 favorite didn't make the list. So I didn't get to see 'A Shogun Named Marcus', 'Escape From the Prison Planet', or 'Spacegrass' live this night, but I did get to see instant classics 'Sucker for the Witch' and 'Firebirds'. The crowd went crazy for 'Pure Rock Fury' and WILD for 'The Mob Goes Wild'. Clutch's music gets people moving, and the high energy performance had the crowd doing that in a beautifully chaotic storm of chanting, fist pumping, horns held high, bouncing, moshing, crowd surfing, singing and every other thing that makes a great rock show a spectacle to behold.  I didn't leave there sad for missing my favorites, I left pumped to get to my car so I could listen to them on the way home. So I might suggest you plan for that possibility as I did.
Clutch are and always have been Neil Fallon, Tim Sult, Dan Maines, and Jean-Paul Gaster. This crazy (in a genius way) group of guys show up and do their job, like they have since they started over 25 years ago. They are always out to deliver to their fans and they do not disappoint. They are currently embarked on a tour with fellow madmen Primus. Get out and see them as this is a match made in heaven.