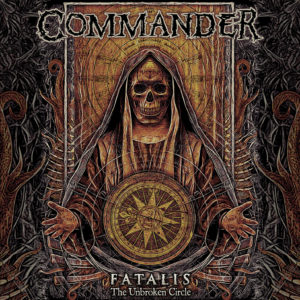 I began the day with a very nice guitar riff opening this Commander "Fatalis (The Unbroken Circle)" with a hellish voice haunting my player. Cool! As I began with the guitars I must say – by listening nly to the first track! – that guitars are the strong stapler in "Fatalis (The Unbroken Circle)," with the creative and killer riffs. Which, by the way, is the song which christens the album.
As I told before in other reviews, old dogs do learn new tricks. Commander are a band from the end of the 1990s, to be more precise from 1999 and still are a kick ass band with that good old death metal background. No need to say that when one empathizes so much with a band, words go easily in a review. That's exactly what happened between me and Commander "Fatalis (The Unbroken Circle)" effort. Words flowed easily. Again, the guitars are the highlight to "Fatalis (The Unbroken Circle)" because it does go easily too. Nick Kolar and Steffen Augstein divide pretty well the duties of combining heavy and killer interventions with technically perfect playing, though simple.
There's a hidden gem inside this "Fatalis (The Unbroken Circle)" and it is the lyrical content, which by the way, not all bangers pay the necessary attention to them. Commander write about politics and other subjects that most bands avoid. In my opinion, they should not. Metal is rebellion, and it must be always a rebellion against anything that dares to cease our freedom of though and speech. METAL IS THE REBELLION! Listent  to "New Slave Democracy" and pay attention to the content of the lyrics. Commander are giving us a hint of what is to come if we do not pay close attention. "Insidious Greed" has the same vibe and a very cool atmosphere, slow and dense.
Well, thanks to its superb quality, it was very easy to review this Commander "Fatalis (The Unbroken Circle)," which will reveal itself to this sad and lonely world on April 13th via Black Sunset / MDD Records.
Track Listing:
Fatalis (The Unbroken Circle)
Locust Infestation
Chaos Awakening
New Slave Democracy
Insidious Greed
Invidia
Superbia
And Death Swings the Scythe
Shattered Existence
Watch "New Song" alive here: