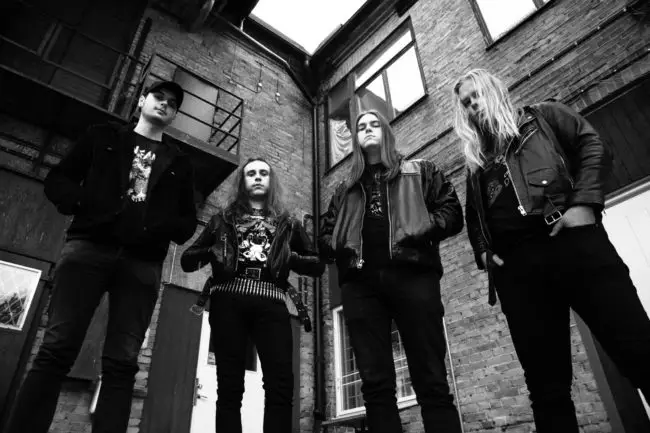 In advance of their first full-length album, COMMANDO whet our collective appetites for more classic, thrash-tinged heavy metal with "Rites of Damnation," a mini LP containing six tracks that hint at a bright future for these young Swedes. Founded in 2016 by four like-minded youngsters at school, the band found themselves quickly juggling with different influences from the whole metallic spectrum to create their own variation on timeless sounds and themes.
Their "Demo 2018" offered a first, raw taste of what has, by now, fully unfolded: highly energetic traditional steel with hysterical vocals, yet executed with control and sharp compositional wit throughout. The two songs were re-recorded for "Rites of Damnation" to show the large steps COMMANDO have taken within just a few months.
"We wanted a bigger sound and added a few details," explains singer Robin, "Stylistically, we were inspired by many Scandinavian acts and artists, particularly In Solitude and Henrik Palm, Vampire, Mercyful Fate and Tribulation, not to forget the Swedish thrash underground with names such as Antichrist and Insane."
In a way, they all shimmer through when you listen to the EP, which the front man considers to be "just a collection of tunes we have written so far. They have recurring motifs of sacrificial rites and refer to mythology. Joel Sundin from Entrench, who already created the artwork the demo, did the new one as well after listening to the new material. We asked him to connect it to the creature on the cover of the tape."
COMMANDO's subtly "occult" flair and a high level of playfulness raised eyebrows at cult festval Muskelrock, now they are ready for live conquests beyond their home turf. Meanwhile, "Rites of Damnation" makes their stage power palpable with every string strummed and drum beaten, whether it's during opening stomper 'The Sacrament' or in the shape of epic instrumental 'Djävulsmaskopi,' a perfect study in evoking sinister atmospheres.
Whereas 'Sinners Soul,' which owes as much to Metallica's "Kill 'Em All" as to DiAnno-era Iron Maiden, sports an acoustic break that was deftly woven into the steel fabric, it all culminates in 'Burn the Sky,' a stunner of a song with fists-in-the-air sing-along chorus and closing anthem in the truest sense of the word.
Regarding the quartet's upcoming debut album, the Robin promises "a well-rounded record rather than just separate songs.
The contract with High Roller Records was one of our biggest goals, now just keep working on killer material and further expanding our style. What comes next? We will see …"
Read our review here.