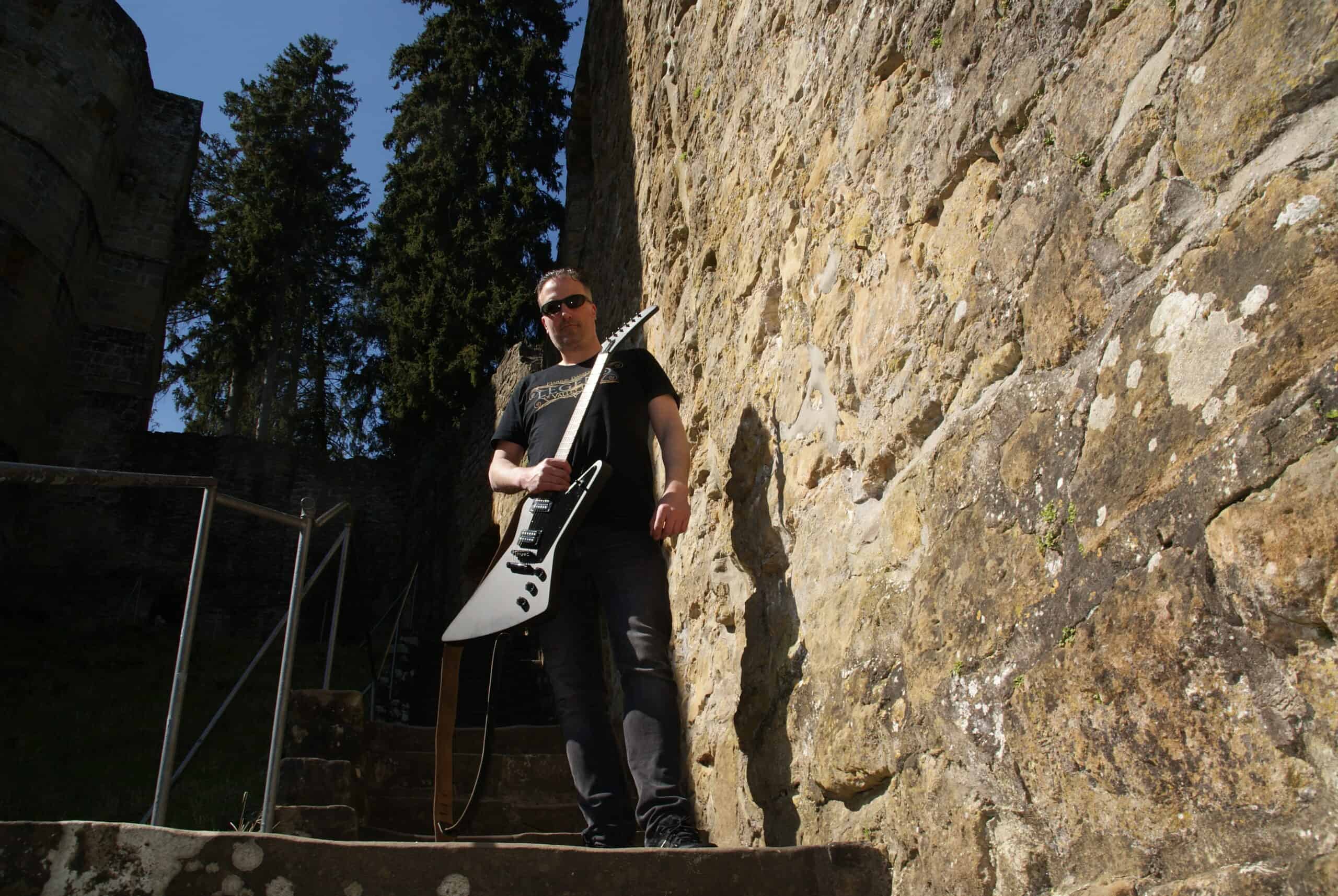 Hailing from Holland we find artist Conor Brouwer, a forty years old, married man with a wonderful woman Leona, and father of two girls Nora & Milena (6 & 8 years old). They live near the sea in Katwijk, and he works for an engineering firm in Noordwijk. His hobby is power metal. Conor: "When we bought our house in Katwijk, we looked for a house with a good possibility for a mancave! I spent many hours in this mancave listening to power metal. Last year(s) I spent many may hours doing what I have dreamed of for years: recording my own epic metal opera!
In the beginning of this millennium I discovered the beautiful world of power metal. Enchanted by bands like Avantasia, Freedom Call, Rhapsody, Helloween, Gamma Ray, Stratovarius, Hammerfall, Insania, Dragonland, Sonata Arctica & many more! I wanted to create my own "metal opera". Back in 2001, when I was 19 years old, I remember walking through the ruins of Beaufort in Luxembourg. It was this epic place that gave me the inspiration to bring "Call of Eternity" to life. In the summer of 2001 I wrote the songs for what was going to be my masterpiece. However, due to constantly having other priorities in my life it took me 'a while' to work out and record my metal opera. I had never forgotten about those epic melodies and hymns. "Thanks" to the whole covid-situation I took advantage of the moment: now is the time to finally record "Call of Eternity"!
The concept of the story behind "Call of Eternity" is basically about hope and faith. I think as a teenager we are in a phase of life when we discover our innermost, and sometimes conflicting emotions such as love, happiness, sadness, anger, hate, fear, etc. In this phase we also learn what life is really like and how important it is to maintain a certain balance. There's so much going on in the world and sometimes you may find that it's hard to follow and grasp the complexity of it all. Life can be outstanding, yet cruel and insecure at the same time. I tried to catch and express all these feelings in this metal opera by the character of Clarus Glarian, who's a knight living and fighting for his kingdom of Emalor, a place in the mystical land of Fantarion. The chronicle about Emalor is a never-ending tale of bitter defeat, heroic sacrifice, fervent hope and historic victory. This epic story describes fundamental elements of life which every person can relate to and the profound emotions warrior Clarus experienced. Clarus was led by his "Call of Eternity" to reach his own desired destiny. Will he make it?
At some time I think every individual has a strong desire for something to hang on to. Something to believe in. Something to live for. However hard life may prove to be, it is up to us to overcome the challenges that we face and fulfil our dreams and potential! Put things into perspective if you can! I believe these elements fit the music of power metal perfectly and it was my intention to share my personal feelings and beliefs with you through this epic metal opera. Personally, this type of music always invigorates me and makes me feel good, which I hope I can pass on to you as well! Find something to believe in. Follow your Call of Eternity!
During this journey I also got to know a guy called Marius Danielsen from Legend of Valley Doom. I'm forever thankful he helped me through this epic discovery! With help of some great friends and co-operation of great musicians I created something that I have dreamed of for years: this album is my ode to the uncomplicated epic power metal I love so much! I hope you'll enjoy listening to it as much as I enjoyed creating this! I am so happy I have brought these songs to life!
Band Line-Up:
Conor Brouwer – Bass Guitar and Rhythm Guitar
Peter Danielsen – Orchestrations
Ludvig Pedersen – Drums
Marius Danielsen – Choirs
Story Singers:
Henning Basse
Ralf Scheepers
Herbie Langhans
Tim 'Ripper' Owens
Anniken Rasmussen Danielsen
Jonas Heidgert
Marius Danielsen
Ola Halen
Lead Guitars:
Simone Mularoni
Roland Grapow
Victor Smolski
Marco Wriedt
Album Track Listing:
1. Whispering Story Of Holiness
2. Gates Of Immortality
3. Wings Of History
4. Days Of Fallen Glory
5. In The Deepest Part Of Blackness
6. The Cold Destiny Of Tears
7. Glorious Days
8. The Legend Of The Warrior
9. Land Of New Horizons
10. Call Of Eternity
Read our review here.