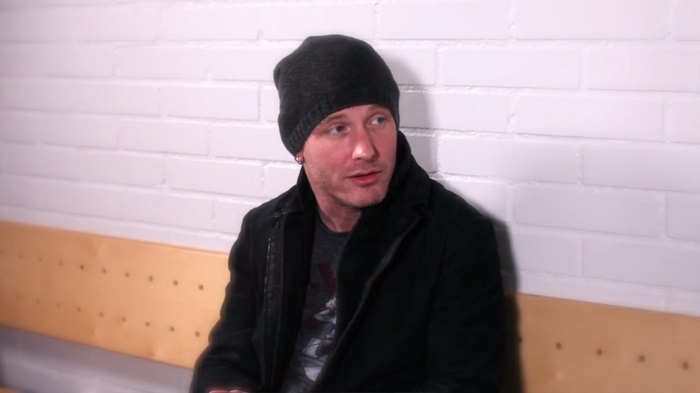 Corey Taylor addressed METALLICA's Grammy Awards performance, saying that metal giants did not deserve to be "disrespected like that."
METALLICA's collaboration with popstar Lady Gaga at the 59th annual event in Los Angeles on February 12 turned into something of a disaster when the Grammy sound crew did not turn frontman James Hetfield's mic on, forcing him to share the mic with Lady Gaga after the first verse and chorus.
Next, presenter Laverne Cox did not even introduce METALLICA by name. At the end of the song, a visibly angry James Hetfield hurled his guitar at a road crew member while kicking over his mic stand.
On the "ETC Show", Corey Taylor offered his opinion of METALLICA's appearance saying:
"I feel bad for Metallica. Honestly, because at this point in their career they shouldn't have been disrespected like that. The fact that… they shut off. Metallica doesn't have control of that."
He continued: "The thing that people have to remember… I'm gonna give you a little background. All of METALLICA's people are not allowed to work on live performances on television. None of us are. They have a sound producer and a whole crew of people who work on those shows, and then your people work right behind them, all right? But you're not allowed to touch anything, which is horseshit, because stuff like this then happens. The fact that then they weren't introduced? It was just, 'Oh, here's Lady Gaga…' Oh, by the way, she's fucking with METALLICA, you dick."
Corey added: "I have a lot of very strong opinions about the Grammys anyway, [but] that really cemented it for me. We don't need your respect. We don't need you to make us feel like we accomplished something, 'cause all you do is open our mouths and shit in it, and I'm tired of tastin' it. So, fuck you, dude. And by the way, I've won one, so it's not a big deal. They don't even really listen to this shit. They go, 'Oh, I recognize that name. There you go.'"
Although SLIPKNOT has been nominated for more than ten Grammy Awards, it has won only one — picking up the "Best Metal Performance" gong in 2006 with the single "Before I Forget".
Taylor also commented: "I have a lot of very strong opinions about the Grammys anyway, [but] that really cemented it for me. We don't need your respect. We don't need you to make us feel like we accomplished something, 'cause all you do is open our mouths and shit in it, and I'm tired of tastin' it. So, fuck you, dude. And by the way, I've won one, so it's not a big deal. They don't even really listen to this shit. They go, 'Oh, I recognize that name. There you go.'"
Via Blabbermouth.net