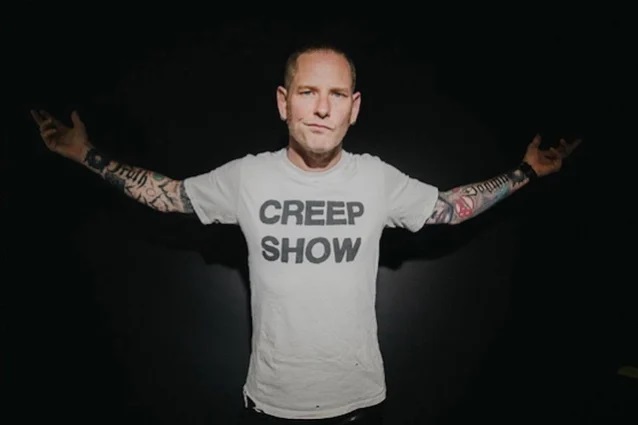 As previously announced, SLIPKNOT and STONE SOUR frontman Corey Taylor will release his debut solo album, CMFT, on October 2 via Roadrunner Records. Taylor recorded the solo effort with his band consisting of Jason Christopher on bass, Dustin Schoenhofer on drums, and Zach Throne and Christian Martucci (STONE SOUR) on guitar.
In a new interview with Australia's MMM Hard N Heavy, Corey stated about the musicians on his solo album (hear audio below): "I've played with all of these guys in one form or another, but never all at the same time, and I knew not only that they'd all be able to crush it talent-wise and creatively, but we would all be able to get along and really have a great time.
"I just got to the point in my life where I don't care about the romance of tension making a great album. I don't even believe in that anymore. I believe that a great album comes from great material. And when you have good songs and great people playing it, you can have a great time and you're still gonna get a great album.
He added: "I've reached a point in my life where I'm tired of being miserable making music, and I only wanna do music with people who love it just as much as I do."
Corey also talked about his recent single "CMFT Must Be Stopped," which features artists Tech N9ne and Kid Bookie.
"You know what's crazy, man — when I wrote that and when I demoed it, I did not have a clue how big that song was gonna be, to be honest — how blown away people were going to be by that song," he said. "It was something that I really wanted to put on there because I just had this great idea for a song.
"I had my verse and the choruses, those ideas, probably for about 15 years, and I just never really had taken the time to really flesh it out and do whatever until I was putting this solo album together, and I just realized it was just time for me to do something like that," he continued.
"And it's got that throwback kind of Rick Rubin-meets-RUN-D.M.C. vibe. That's what I was really trying to go for, and yet I really exceeded that and did something really, really special."
CMFT track listing:
01. HWY 666
02. Black Eyes Blue
03. Samantha's Gone
04. Meine Lux
05. Halfway Down
06. Silverfish
07. Kansas
08. Culture Head
09. Everybody Dies On My Birthday
10. The Maria Fire
11. Home
12. CMFT Must Be Stopped (feat. Tech N9ne and Kid Bookie)
12. European Tour Bus Bathroom Song