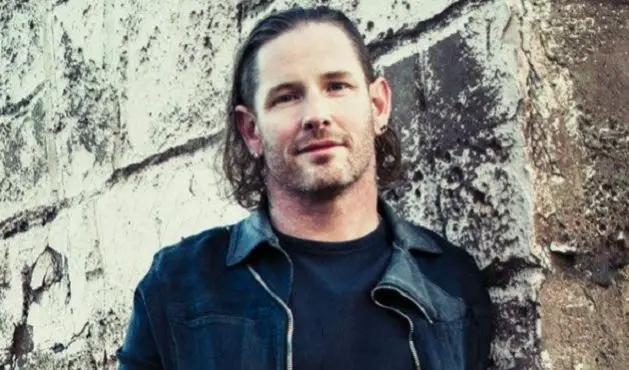 SLIPKNOT and STONE SOUR frontman Corey Taylor was interviewed on Full Metal Jackie's weekend radio program. He spoke about his relationship with Ozzy Osbourne, his son playing SLIPKNOT music with Clown's son, the next SLIPKNOT album and more.
Full Metal Jackie: "Stone Sour are going to be touring with Ozzy later on this year. Slipknot began its touring life on Ozzfest then eventually partnered together on Ozzfest meets Knotfest. Personally and professionally, what makes touring with Ozzy so special?"
Corey Taylor: "Well, from a fan's standpoint, he's the reason that I do this, in a lot of ways. I quote Dizzy Gillespie, "No him, no me." Basically, he was the first larger than life singer that really made me love heavy metal. Whether it was [Black] Sabbathor his solo stuff, I can just remember being the biggest Ozzy fan on the planet. So, as a fan, it's pretty crazy. To realize that not only do I get to tour and work with Ozzy on so many different levels, but also, to socialize with him personally.
"And it blows my 13-year-old self away — it's pretty crazy. On a professional level, it's one of those things where you kind of hope and dream that one day you would be on that level, or at least be associated with it, let alone said in the same breath. And to feel like I have accomplished that in some way, is very humbling and makes me realize just how lucky I am to be able to do what I do."
Full Metal Jackie: Slipknot and Stone Sour are both full-time bands. Physically and creatively, there must be times when that's an exhausting schedule for you. For you, what's the personal necessity of having both?
Corey Taylor:  Personally, it allows me, musically, to be able to create at will. The best way to kill your creativity is to put boundaries or limits on what you can and can't do. And because I have these two fantastic bands, I am able to do anything that comes to mind musically. It just feels like the gloves off, just across the board. If I want to do something slow and light, like "Saint Marie," I can do it. If I want to do something destructive and chaotic, like "AOV," I can do it. For me, it has made my musical aspirations as big as the horizon basically.
From a personal standpoint, I get to partake in every sort of frontman persona I'd like to. With Slipknot, I can get on my inner madman. And with Stone Sour, I can get on my inner class clown. And both are me. Like, I have always maintained the fact that you can't have one without the other. So it makes sense for me to be powering these two huge bands.
Full Metal Jackie: A new Slipknot album has been in the pipeline for a while with some talk of a release next year. What's different about not only the way you're going about writing it, but also with what you want to say with it?
Corey Taylor: Well, it's been a heavy couple of years for me personally. So I'm working out some things, personally for myself, which has been great. I've been able to grab ahold of some of the depression that I've been fighting and formulate the way that I want to describe it. So some of these lyrics are, to me, some of the best I've ever written. It's probably the most I've shared in years.
Hearing some of the guys in Slipknot read and react to some of the lyrics that I've been writing has been fantastic. I know Clown was like, just blown away by how open and raw it all felt. It felt like the old days. It felt like the beginning when it was just – we were the wound and the fans were the scabs. Trying to get it to heal and we were all trying to heal together. That's what this kind of feels like.
It's been great watching the process and getting involved with the process, finally. Hearing the music that Clown and Jim and Jay and Alex and everybody else in the band has been really working on, and being able to listen to it with fresh ears and come at it from different standpoints has been really fulfilling. It's been really, really good.