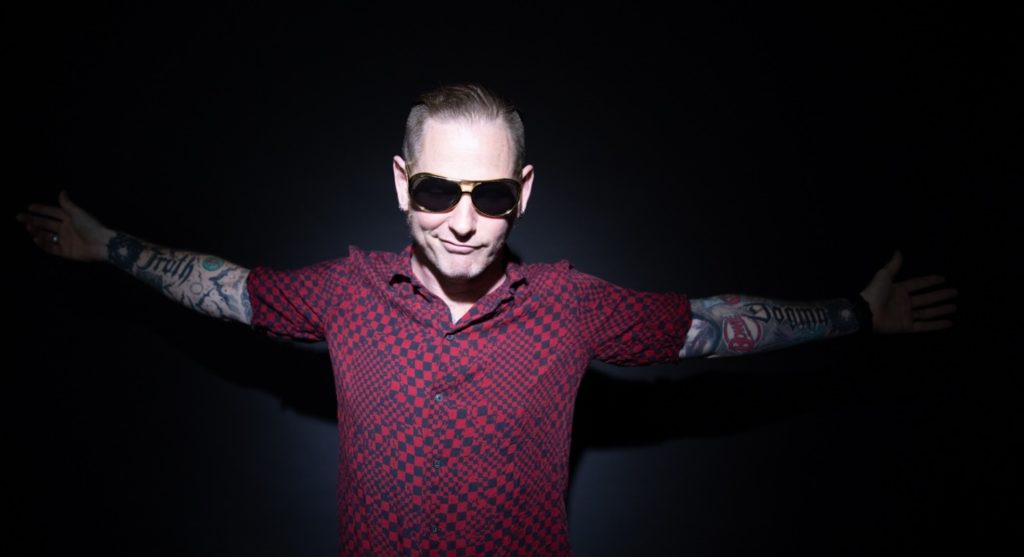 Corey Taylor, lead singer of SLIPKNOT and STONE SOUR, is feeling very enthusiastic about the tracks he is currently laying down for his second solo album.
Last week, Taylor got the ball rolling by heading to a mystery studio with his longtime collaborator Jay Ruston, who previously worked with bands like STEEL PANTHER and ANTHRAX.
Corey shared a video of him driving to the studio to begin recording the new album, and said the following: "I'm really, really excited. I mean, everything's just bigger this time, man. Everything sounds better; everything's running better; everything's running hot. Instead of where I came from, this is where I'm going.
"Musically, it's harder, it's faster, but there's still tons of stuff from the first album. So, there's elements of SLIPKNOT, there's elements of STONE SOUR, there's elements of CMFT; there's elements of the stuff that I've been doing for years — just, like, cover-wise or whatever, just all the stuff that I've always wanted to do, we're doing that.
"We're just cranking it up and it all sounds so f**king good that I can't even describe to you how stoked I am to be starting on this. And today's the day. Today's the day. Today's the f**king one. So, let's get going.
"Serious as a heart attack, nobody's ready for what they're about to hear," he added. "It's for real. But first, we've gotta record it."
Taylor spoke about his plans for upcoming album on SiriusXM's "Trunk Nation With Eddie Trunk" last August, where he said: "We're gonna go in and bang it out and get it ready," Corey said. "And then once I'm done touring with SLIPKNOT, I'm gonna throw together a really rad, 'rock is back' kind of tour for the solo stuff and start bringing out some of the younger — maybe not even some of the younger rock bands, but just some of the bands that don't get the chance or just don't get the looks that are afforded to either pop bands and hip-hop bands or people like me who are kind of grandfathered in.
"So I'm gonna try and really kind of fly the rock flag and give some opportunities to some of the younger bands and maybe even just the mid-level bands that just haven't had a shot. 'Cause there's so many great bands out there."
Taylor also revealed that all the material has been written. "It's about 15 songs," he said. "And it's one of those cool things where some of it's older stuff that I've written over the years. There's actually a couple of songs that some of the fans know because I debuted them live when I was doing the JBKB [COREY TAYOR & THE JUNK BEER KIDNAP BAND] thing. So there's a song like 'Beyond' and a song like 'Breath Of Fresh Smoke' — both of those songs are getting recorded and released finally after… God, how many goddamn years would it be? Probably about 14 years, 16 years. But then a bunch of newer stuff. And there's definitely a darker edge to it. It's still very melodic, but I'm definitely starting to kind of bring together the things that I'm known for. And it's less an homage of the stuff that I grew up on and more of what people are used to hearing from me — but still a solo album. So there's still great rock and roll on it. There's some heavier stuff, but there's some really great slower stuff. It's gonna be really rad."
Taylor's debut solo album, CMFT, was released in October 2022 via Roadrunner Records.