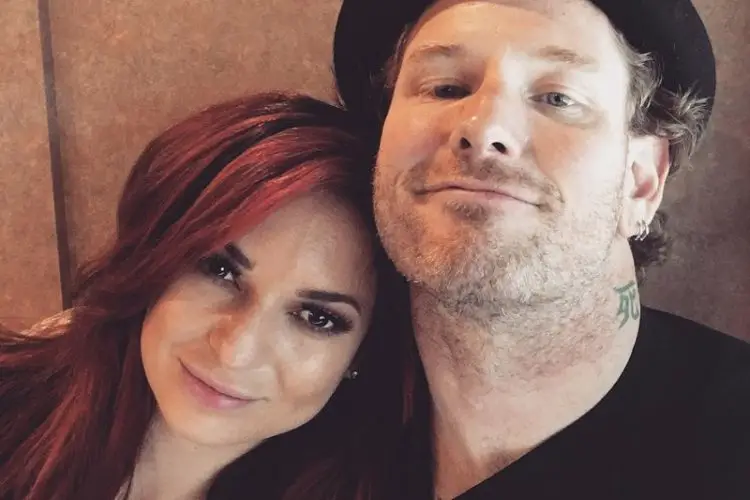 During a recent appearance on 93X radio station, SLIPKNOT and STONE SOUR frontman Corey Taylor was asked how he and his wife Alicia celebrated their first anniversary as a married couple on October 6.
"It was weird. It was our first date night in eight months," he responded. "We hadn't gone out. [Laughs] And it was weird dressing; we were gonna have to be presentable and not in our sweats. It's such a weird normal now. So we went out.
"Obviously, we're in [Las] Vegas, so it was pretty easy to find a spot. We went to Nobu, which is one of our favorite suchi places. They had the booths set up in a way where it's naturally distanced, so you don't have to worry about that. But you have to keep your mask on right up until you get the drink.
"They were, like, 'You have to keep the mask on till you get the drink.' I was, like, 'Whatever. I might just wear this while I'm eating the damn thing.' So it was still a reminder that it's a little weird out there. But it was great. We had a great time."
Corey and Alicia tied a knot in their hometown of Las Vegas in October 2019.
SLIPKNOT released their latest album, We Are Not Your Kind on August 9, 2019 via Roadrunner Records. Album was once again recorded at a Los Angeles studio with producer Greg Fidelman, who engineered and mixed SLIPKNOT's 2004 album Vol. 3: (The Subliminal Verses) and helmed 2014's .5: The Gray Chapter.
We Are Not Your Kind sold 118,000 equivalent album units in the U.S. in its first week of release to land at position No. 1 on the Billboard 200 chart. Furthermore, the album made an impact worldwide with No. 1 debuts in the United Kingdom, Mexico, Australia, Canada, Japan, Ireland, Belgium, Portugal and Finland, as well as Top 5 debuts in Germany, France, Norway, Italy, Austria, Sweden, Switzerland, The Netherlands, Poland, Spain and New Zealand.