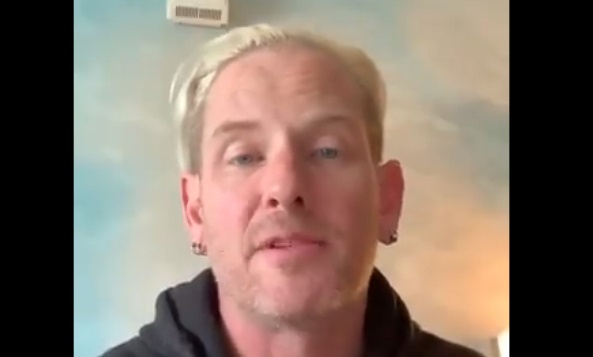 SLIPKNOT and STONE SOUR frontman Corey Taylor has been testing negative for COVID-19 for the past two days after being infected with virus last week.
Taylor, who is fully vaccinated, was forced to call off his appearance at a Michigan pop culture convention this past weekend after testing positive for the coronavirus. Taylor first shared the news in a video posted Friday on the Facebook page for Astronomicon, the event where he was scheduled to appear Saturday and Sunday.
Yesterday (August 26), Corey's wife Alicia Taylor took to her Twitter to write: "Corey has been testing negative for two days. Had he not been vaxxed, this would have lasted much longer and been exponentially worse. I know this won't change all minds, but if you're on the fence- do it.
"Now it's time to snag my man and drive home! I have missed him so much!"
Couple of days ago, Corey issued an update on his battle with COVID, saying: "Hey everybody. I just wanted to give you an update. First of all, I hope everybody's well out there. Second, I am out of the woods. I'm still positive. But the fever's gone, aches are gone. I'm sweating everything out. I'm still congested. But I'm slowly but surely making my way. It shouldn't be too much longer before I test negative. So, I mean, that's great.
He continued: "I wanted to say thank you very much to everyone who sent their best wishes and to all my family and friends who reached out. You have no idea how much that means to me.
"I also wanna say that because I was vaccinated, I truly believe that is what helped me get over the break. I mean, this is the worst I've ever been sick in my life. Had I not been vaccinated, I shudder to think how bad it would have been. But because I had that extra little bit of protection, man, it definitely helped me get through it. So — go, go, go. If you're still on the fence [about getting the vaccine], I'm telling you right now it's the best thing you can do for yourself.
"Count the days down, and hopefully I will see you guys soon. All right? Take care of yourselves. Stay safe."