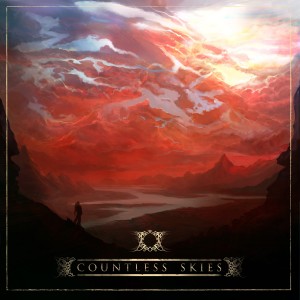 Whenever most of us think of melodic death metal we think of bands like (but not limited to) Amon Amarth. Well here is a melodic death metal band that I think stands right up there with the giants of melodic death metal simply because of the sound and feel to this album.
Countless Skies' debut self-titled EP is an amazing, amazing album that while it only has 4 songs to it it uses those songs to their fullest extent which soothing vocals and another kind that are more associated with death metal even though this time around they aren't the super deep and guttural ones that we all know, but are close enough. Then the guitars and drums both have great sound for the whole album to the point where it had that feeling for me where it tapped something deep down and connected with me in a way that doesn't happen very often and that is the precise reason why I think it's one of the best EPs that I've heard for a while.
Now I know that melodic death metal isn't exactly everyone's favorite genre, but I can say right now with complete honesty that Countless Skies has made what is probably the best album you need if you're looking for a smooth entry into the genre and have a good time while doing it.
The album can be bought on iTunes here, streamed on Bandcamp here, and you can stream the first track "Ethereal" via YouTube right below.
Track Listing:
Ethereal
Penance
Everlast
Reverance