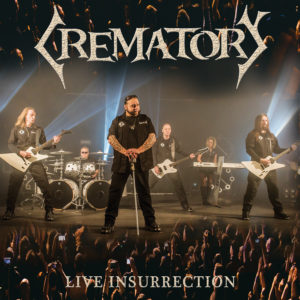 It's been really a good time I don't hear about a live album. Maybe because the things that were said about overdubbing, about Ozzy's "Speak Of The Devil," and things. It was a surprise to receive Crematory's "Live Insurrection." And I confess that I didn't know the band. The 1990s were kind of a blank to me. I left a lot of great bands behind. Ok, so shameful, but what can I do? I really didn't know them at all. I suppose that the better way to make things right it is to review Crematory's "Live Insurrection." Am I correct?
My first impression about "Live Insurrection" was a huge deja vu. Crematory's music is so vivid in my mind that one can't believe I've never heard them before. That must be because of a series of compilations that I used to hear during the late 1990s. I'm sure Crematory wasn't one of them, but their music is pretty familiar. I remember I was impressed by that exact kind of music. I wasn't really used to that kind of keyboard playing giving such a gloomy atmosphere. Songs like "Ravens Calling" really impressed me. The contrast of clean and gutural vocals was new to me too. Some say the 1990s were lost years, I strongly disagree. Metal split in a bunch of subgenres, but that made it stronger, as a matter of fact. The strength of songs like "Pray" don't make me lie. Those vocal duets are just awesome. Metal bands found a way to put keyboards into their music, and the outcome was much better than expect.
There are remarkable songs in "Live Insurrection," "Everything," for instance, is kind of a hymn to Crematory. And it gets even better alive. "Live Insurrection" is a seventeen tracked album of pure delight. "And everything I lost" not knowing Crematory before… Once more I have to stress the evil beauty of an album. The lyricism of "Everything" is just moving. By the way, it's funny how they mix German and English between songs, and in songs. I don't know who was the first to have the idea of mixing gutural and clean vocals, but we should praise him everyday. It's one of the most sensational things in Metal. And Crematory do it good as hell. It seems that the guitar riffs get more powerful. That the thundering drums make a huge presence.
It was bands like Crematory that made me go extreme metal. That's the pure truth. I was really atracted by the contrasts Crematory and other bands brought to Metal. The power of songs like "The Fallen" is amazing. And how about the touching, and simple, guitar solo? It works damn fine. Simple as that. And the funny thing is that Crematory managed to use effects better than ever. In some bands they just sound ridiculous, but Crematory took them to another level. Pure instinct as in "Höllenbrand," where the mix is organic giving more strength to it.
Great first time with Crematory  and "Live Insurrection," which is being released today, September 8th via Steamhammer / SPV. And I hopefully wish more.
Track Listing:
Intro
Misunderstood
Fly
Greed
Tick Tack
Instrumental
Haus mit Garten
Ravens Calling
Pray
Everything
Instrumental
Shadowmaker
The Fallen
Höllenbrand
Die So Soon
Kommt näher
Tears Of Time
Watch "Everything" official live video here: