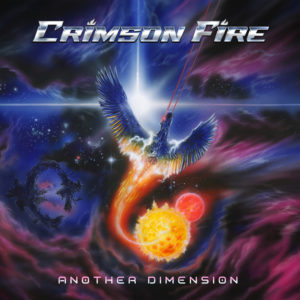 I recommend this album to all my fans that don't believe in the tale of first track. To the ones who don't know the tale of the first track I'll elaborate it for you. History goes that the first track of an album has to be the stronger, the more powerful and the most attractive to catch the fans attention to the effort. So, many bands choose the best track to be the first. That's exactly what happens here with Crimson Fire "Another Dimension," an album that kicks off breathlessly but goes downhill in power and glory. "Judas," the aforementioned track, is a vigorous Power Metal with influences, mostly the guitar phrasing of Iron Maiden and early Helloween, which is a faster Iron Maiden, if you know what I mean. From "Judas" "Another Dimension" goes watering and sugaring the sound. Not that I'm complaining, but the thing is that I loved and "Judas" thought Crimson Fire would follow the same path.
Crimson Fire follow a very controvertial facete of Metal music here. It's not really Hard Rock, it's the kind of Metal that bands as Whistesnake and Def Lepard crowned in the middle of the 1980s and, of course, made indecent sums of money. There are lots of keyboardings, electronic effects, singalong choruses, some spandex, and all. Listen to this in 2021 is kind of anachronic because I really thought that after the reactions to these bands this kind of sonancy would be lost and forgotten forever – unfortunatelly I'd say. Well, as we can see, not really. On second thought or maybe I'm being only too tough with the band, because while listening to last track "Walking into the Light" I perceived strong influences of Iron Maiden's "Seventh Son of a Seventh Son" era. The exact time when the band started to use sinthetizers and tried a new formula. It backfired back then, but now kids kind of like it. Following track "Don't Fall from the Sky" follow this path. It's fast with sharp guitar phrasings and some great vocals. The kind of track Gamma Ray or Primal Fear would record in the 1990s. The twin guitars do a wondrous job here. From "On the Edge" on it's possible to feel the chance of heart the band suffers. "On the Edge" is a typical song of the aforementioned bands I said before. "In the night, we'll be together. In the night, we loose control. In the night, we'll be forever reaching the edge of the world…" Ouch!
Well, my fan, I'll be totally honest with you. I had lots of fun listening to Crimson Fire "Another Dimension." The critique is just a matter of speaking. It's the kind of album that you will listen hidden in your room. Or so… hahahahahahahahaha Just one more thing, the guitars are ingenious.
Crimson Fire "Another Dimension" will be released on August 27th via No Remorse Records.
Track Listing:
Judas
Don't Fall from the Sky
On the Edge
Fire Below
Set the Night on Fire
No Fear
Eye of the Storm
Sold My Soul
Chasing Time
Walking into the Light
Watch