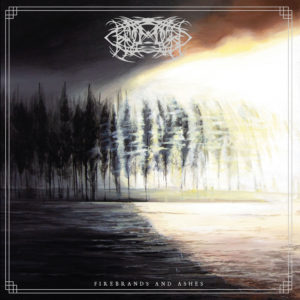 One of the nicest and neatest instrumentals of 2019!
I must say it is an album that really impressed me out with its unique combination of old and modern school of Black Metal. In terms of music technique when it comes to the guitars "Firebrands and Ashes" mix the complex and polished with the raw and uncanny with  great solutions that amaze even the most die-hard fan. It's not really easy to combine those kind of influences, though it sounds easy to laymen ears. Guitar lines in "Firebrands and Ashes" are everything but usual due to the incredible powerhouse of riffing and licks they impose us.
Vocals are also a highlight in Crom Dubh "Firebrands and Ashes," what I confess is really odd to say, but the emotion it passes on is really amazing even with the limitation gutural singing implies. The combination guitar playing and vocals are killers in this album just because the fill in all the blanks giving the right amount of aggression and emotion. Songs as "Ashes Last Dust" provide the fan everything he wants from an Extreme Metal band with its low-cadenced rhythm and strong load of emotion. Following track "Ram in a Thicket" tries a different cadence combined with an anthemic war cry as chorus. I know it's hard to pick only one track from this amazing album, but this track is just a carnage of unbelievable riffings and guitar harmonies. Crom Dubh "Firebrands and Ashes" also combines lots of anthemic chorus that highlight all the effort. Try them at last – but not least – track "Endless Night." Just one more highlight, pay attention to the combination guitar and snare's ruffing at the end of "Burning." A piece of art, I must say.
Crom Dubh "Firebrands and Ashes" is an album that won't save the Metal world, but it sure brings lots of fun and amusement. It's an album that can make all Extreme Metal fans very proud because it doesn't owe anything to the classics. In my opinion a classic-to-be.
Crom Dubh "Firebrands and Ashes" was released on June 14th via Ván Records.
Track Listing:
Boreal
Firebrands and Ashes
Last Dust
Ram in a Thicket
Burning
Astride in the Grave
Endless Night
Watch "Firebrands and Ashes" official video here: