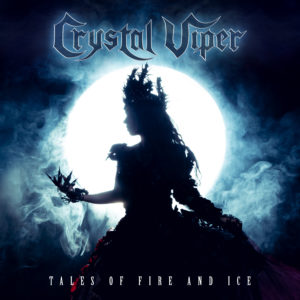 Crystal Viper are one of the leading bands of this new generation of Old School Heavy Metal – hum, new generation of old school? Sounds odd, but c'est la vie. It is a great pleasure to have again the opportunity to review their newest release "Tales of Fire and Ice" which follows 2017's "Queen of the Witches" an album that features the return of the queen of the witches vocalist Marta Gabriel after a long, but sucessful fight against heatlth issues.
"Tales of Fire and Ice" differs a bit from its predecessor "Queen of the Witches" as it is more mature with a Judas Priest grip more than the European Old School Heavy Metal, more precisely Doro Pesch grip as before. "Tales of Fire and Ice" varies much more in terms of instrumentals and moods. It's not so fast and furious, but the punch is still the same. opted for more moody songs with a slower cadence which highlights heavyness and melody. Yeah, "Tales of Fire and Ice" is more melodic than its predecessors and it's a natural evolution that bands go through. As everything in this sad, lonely, and pathetic world Crystal Viper are evolving. They even tried covering Dokken's classic "Dream Warriors" very well. A cover that you feel the classic but also feel the presence of Crystal Viper's touch. If I may, tracks "Under Ice" and "One Question" sound a little as Dokken. Just a little. Are Crystal Viper looking for another source of inspiration that Old School Metal? Well, experimentation is not forbidden at all in the Metal music world, or is it? I guess not.
On second thought, it's possible to feel the old cacth while listening to tracks as "Tomorrow Never Comes (Dyatlov Pass)" and its catchy chorus. There is also a power balad, if it's possible to call "Tears of Arizona" this way. By the way, it sounds very Nightwish.
So, "Tales of Fire and Ice" is an album that hardcore Crystal Viper fans will strange, but in a good way.
Ah, my congrats to the beautiful and enigmatic cover.
Crystal Viper "Tales of Fire and Ice" will be released on November 22nd via AFM Records.
Track Listing:
Prelude
Still Alive
Crystal Sphere
Bright Lights
Neverending Fire
Interlude
Under Ice
One Question
Tomorrow Never Comes (Dyatlov Pass)
Tears Of Arizona
Dream Warriors (Dokken Cover)
Watch "Still Alive" official music video here: