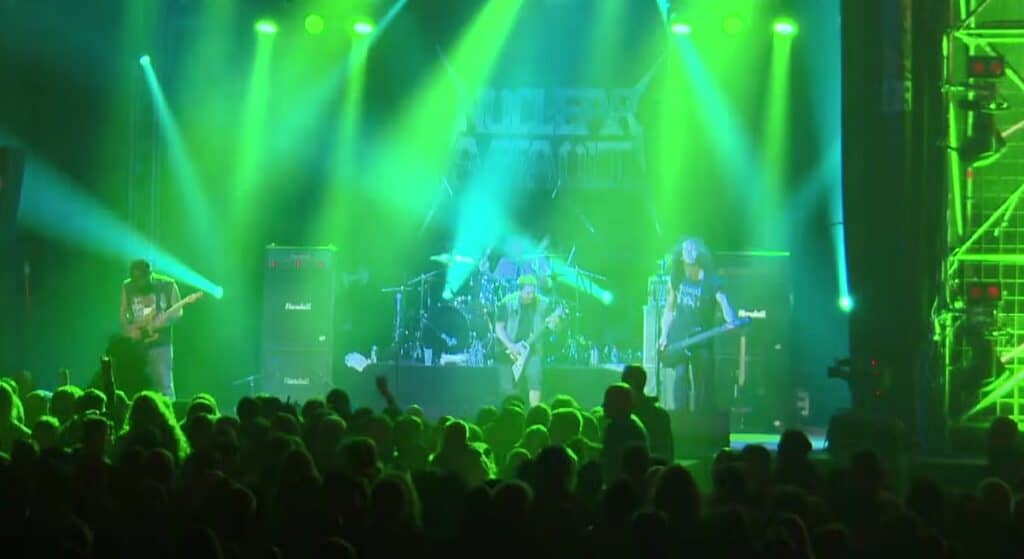 In a recent interview with the "That Metal Interview" podcast, NUCLEAR ASSAULT bassist Dan Lilker declared that their performance at UK Deathfest in London last September was likely to be their concluding show.
He said: "We've been trying to hang it up for a while, but people won't let us go. I know that people wanna see NUCLEAR ASSAULT and everything like that, it's just that… We're getting a little old, and — I don't know — it's different. I just don't enjoy touring like I used to. Flying isn't what it used to be. You get f**ked around at airports all the time. And I don't really have patience. If my flight's delayed or if [my] bass didn't make it, for some reason, that sh*t's getting old."
When probed as to why NUCLEAR ASSAULT ultimately decided to disband, Lilker said: "It's hard to explain, because some of it's stuff that we don't really discuss outside the band or anything. But it's hard now, because John [Connelly], our frontman, he's a high school teacher. So it's really hard for him to get away. Obviously, he could get school vacations in the summer, but he's also got a family.
"Just because it's summer and he doesn't have to teach doesn't mean he's gonna run away for a month and not be able to just go do normal vacation s**t with his family and everything. So it just gets more complicated like that. He's been doing that for a while now. So, obviously, he has a teacher's schedule and he cannot take off from that; they have a very strict vacation thing with the New York education system. So that alone is a big reason that it's really hard to do it."
Although Lilker asserted that NUCLEAR ASSAULT had ceased as a touring act, he made it clear that the option of reuniting down the line was still on the table.
"I think we pretty much said we just did the last show," he reiterated. "The thing is if I keep saying, 'Oh, we'll do this and that,' in dribs and drabs like that… We really have to f**king draw the line… But we pretty much said we have to just starting saying, 'That's gonna be it.' And if it changes in the future, it does."
NUCLEAR ASSAULT is an American thrash metal band from New York City. They were one of the first bands in the genre to emerge from the East Coast, along with OVERKILL, WHIPLASH, TOXIK, CARNIVORE and ANTHRAX.
NUCLEAR ASSAULT released five full-length albums and toured relentlessly throughout the 1980s and early 1990s, and broke up in 1995. The band reunited briefly in 1997 and then permanently in 2002.