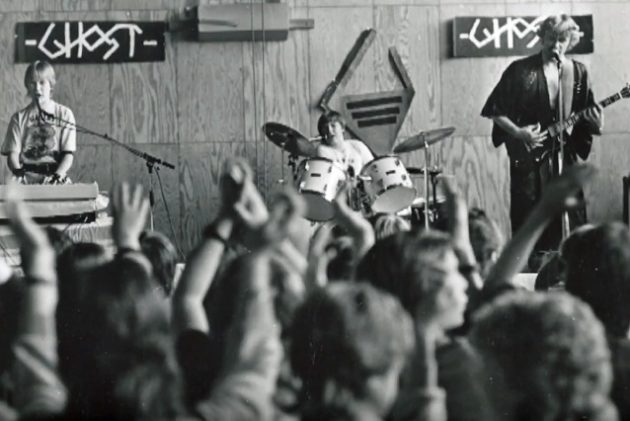 Long before Tobias Forge achieved worldwide fame with GHOST, there was another Swedish hard rock band with the same name. In 1983, then 10-year-old Dan Swanö started GHOSTwith his 12-year-old friend Anders Måreby, drawing influences from KISS and other classic rock groups of the late '70s and early '80s. The young duo composed 60 songs between 1983 and 1988, most of them sung in Swedish but a few in English as well. They made several demo and live recordings but never landed a record deal despite their best efforts.
Now, 30 years after Swanö's GHOST transformed into ICARUS and then UNICORN, 30 songs from Dan's first serious band will be released on May 18 by Bone Records on CD (limited to 200 copies) and double gatefold LP (300 copies, black vinyl).
For pre-orders, send an e-mail to: [email protected]
In the latest issue of Sweden Rock Magazine, Forge said that he wasn't bothered by the upcoming release of "1983-1988". "I think it's cool, it's fun," he said. "I don't think it's negative in any way. It's existing stuff, so they have all the right in the world to do this."
In recent years, Swanö has made a name for himself as an in-demand producer while continuing to make music with a variety of projects.
GHOST's "1983-1988" track listing:
01. Demonernas Intrång
02. Han Vill Bli En Stjärna
03. Kamp För Livet
04. Djävulstriangeln
05. Rädda Dom
06. Vakande Ögon
07. Tänd På
08. Spartacus
09. 3002
10. Solens Söner
11. Fanny
12. U.F.O.
13. Geronimo
14. Vietnam
15. Pioneer (Live)
16. Den Sista Striden (Live)
17. Alone Again (Live)
18. Tårar I Ett Regn (Live)
19. Rock 'n' Roll (Live)
20. Skrika För Hämnd (Live)
21. Midnatt (Live)
22. Poltergeist (Live)
23. Vid Regnbågens Ände
24. Nattens Härskare
25. Hiroshima
26. Hollywood
27. Dödens Dimma
28. Vikingakonung
29. Klockornas Klang
30. Avskedet