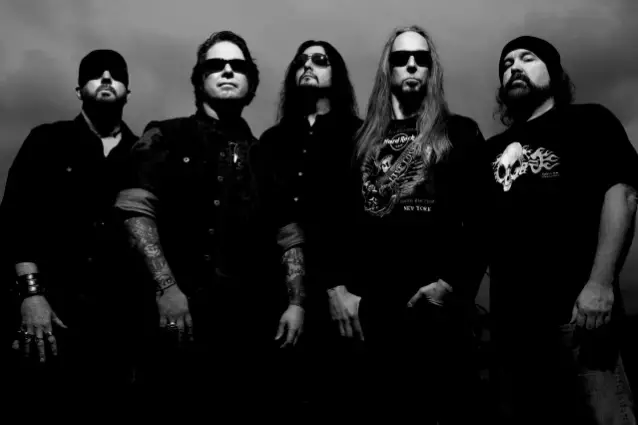 L.A. thrashers DARK ANGEL just uploaded a picture of their frontman Ron Rinehart and guitarist Eric Meyer together on their Facebook page, which has lead fans to indicate that the band is teasing new material.
Although they have broken up and reformed occasionally over the years, DARK ANGEL haven't released a full-length studio album since 1991's "Time Does Not Heal".
The as-of-yet-to-be-titled new record is expected to be out next year, according to drummer Gene Hoglan, who recently told Agoraphobic News that there are "5 or 6 songs on the go", and added, "I'm just trying to make it like a super energized, super fun, ball-crushing record that's just gonna destroy all!"
DARK ANGEL's current lineup includes Rinehart, Meyer and Hoglan, alongside bassist Mike Gonzalez and guitarist Jim Durkin. To date, the band has released only four full-length studio albums: "We Have Arrived" (1985), "Darkness Descends" (1986), "Leave Scars" (1989) and the aforementioned "Time Does Not Heal".
DARK ANGEL's over-the-top style (extremely fast, heavy and lengthy songs with lots of tempo changes, lyrics, and extended instrumental parts) earned them the nickname "the L.A. Caffeine Machine". Although they had never achieved a mainstream breakthrough in their initial career, the band is often credited as one of the leaders of the second wave of the thrash metal movement of the 1980s.