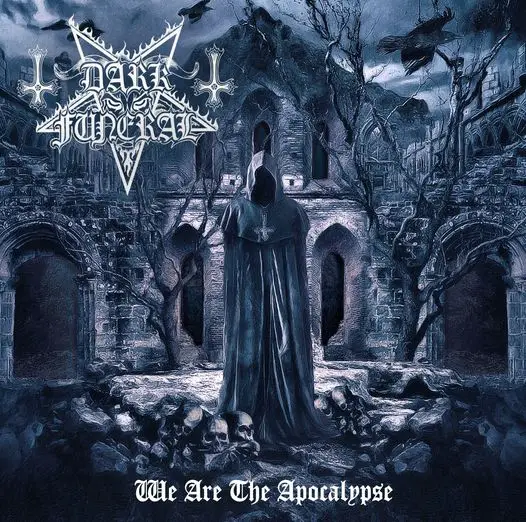 Effortlessly, when we take into consideration the very state of modern black metal at its highest levels, it's hard not to come around to the very name of Dark Funeral after very little to no time at all. For years, the band has been a true tour de force of what it means to make black metal in some of its purest forms that has more than enough to offer from its riffs to its very presentation with virtually every offering from the Swedish name being an occasion to be heard as they always cause more than a couple of waves throughout the community. With the prospect of their seventh full-length ready to land upon this cursed world, it's hard to say it's any different this time around with the results just as fittingly devastating.
Even just looking at the very cover art for "We Are the Apocalypse", it's hard to come to the conclusion that Dark Funeral are anywhere close to the end of their careers or coming upon any sort of significant slump to where their titles as one of the kings of modern black metal. Then, even just one track out of the nine that we're presented with here could serve the purpose of proving that simple truth with each of them being far more than single-worthy as it's for over forty minutes that Dark Funeral has not only yet again delivered to us a wondrous creation of oppressive darkness brought in the undeniable vessel of vicious riffs and a pervasive, unabating power, but a true flagship for all that the genre is still capable of even decades later. Few names have been able to remain as synonymous on a high level with a style without changing a single shred of their original sound like what Dark Funeral has done here with every facet of "We Are the Apocalypse" being an outright time machine all on its own for I could absolutely see this effort appearing on CD shelves throughout Scandinavia in the early 90s should this record had taken the place of "The Secrets of the Black Arts". It could've been effortless for Dark Funeral to have taken any other route given their reputation and decades of bringing their A-game to the very whole of black metal, but it's even in the face of such temptation that the band's unwavering dedication to the craft with which "We Are the Apocalypse" is but the latest creation out of the love and devotion that Dark Funeral has towards their vicious sound that has been unyielding since day one. In no other way, Dark Funeral has maintained the status quo in fittingly glorious fashion.
From year to year and album to album, it wouldn't be hard for any band, new or old, to even attempt some sort of shift in their sound for one reason or another, but it's even as the world and style have transformed before their eyes since their beginnings and technology has radically allowed their sound to become honed to a devastating degree, the very core of all that is Dark Funeral has remained unchanged since their outset with this seventh offering far from their least compelling. To enter the torch-lit catacombs of "We Are the Apocalypse" is to find yourself in the midst of otherworldly dark power that simply will not wain with the simple passage of time, but, rather, it bides its time waiting for the most opportune moments to strike each and every time with maximum effect all but promised.
"We Are the Apocalypse" releases on March 18th via Century Media Records! You can pre-order "We Are the Apocalypse" via multiple sources here, and you can listen to the single "Let the Devil In" via YouTube below. 
Track Listing:
Nightfall
Let the Devil In
When Our Vengeance is Done
Nosferatu
When I'm Gone
Beyond the Grave
A Beast to Praise
Leviathan
We Are the Apocalypse