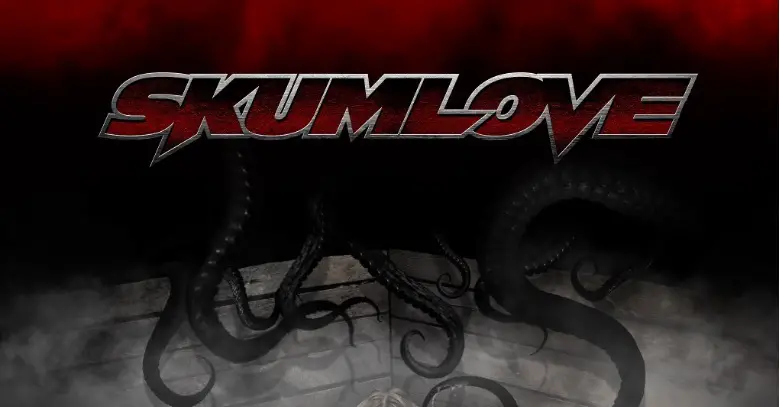 Self-described as Dark Rock, SKUMLOVE has released the single, "The Dark," on all platforms today.
SKUMLOVE is a band consisting of vocalist Skum Love, Robyn Sin on guitars, Cisco Z on drums, and J. Diablo on bass, with extra guitar effects by Michael Ciravolo of BEAUTY IN CHAOS. Their single, "The Dark" was written by Skum Love, and produced, mixed, and mastered by Alex Crescioni at Stygian Sound. The music video was shot and directed by Vicente Cordero at Industrialism Films.
Cover art by Mister Sam Shearon.
"The Dark" was written "under duress while being held captive by the height of the pandemic in 2020. The song depicts dark imagery of four characters dealing with stress, anxiety and depression in their lives. A heartbroken girl, a stressed-out businessman, and a bullied youth contemplating revenge, while a battered housewife tries to drown her sorrows. Inside this darkness is a ray of light in the shape of a hand reaching out to pull them out of the turmoil and bad decisions."
Alex Crescioni, who produced, mixed and mastered the single shares, "'The Dark' showcases a new sound for SKUMLOVE that I feel has been waiting to emerge from the depths. The music and video complement each other beautifully encompassing vulnerability we all can relate to during times of mental and emotional unraveling.
Speaking on the single, vocalist, Skum Love wanted to create a song that felt relatable during a challenging time within the past year. Skum Love comments, "This song is a very personal one.  I knew it had to be more than just another song, it had to be a movement… I reached out to the 'You Rock Foundation,' and with their incredible help, this song can reach to more people and hopefully reach others that are crying out for help. Music has always brought me out of a dark place and made me see the light."