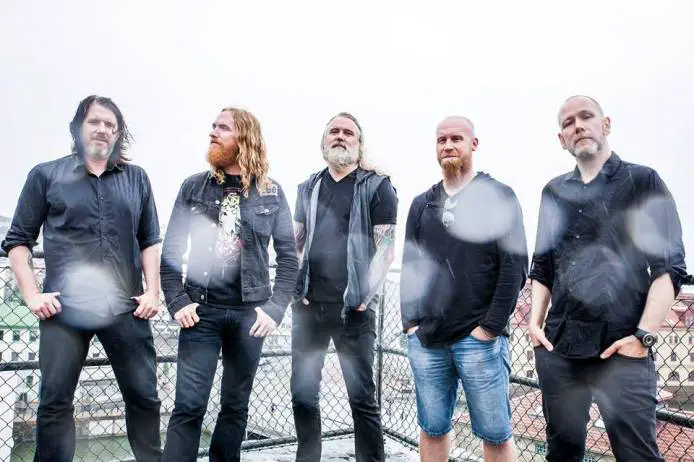 On November 4th, 2016, DARK TRANQUILLITY will release their 11th album "Atoma" worldwide through Century Media Records and start their North American headline tour. Fans needing a first taste of the album can hear the new track, "The Pitiless" this coming Friday, over at Music Choice (USA) or pre-order the digital album via Apple Music, Amazon or Google Play. To keep the excitement going, DARK TRANQUILLITY will premiere a  video for "The Pitiless" (filmed during their stay at the German Turock Open Air Festival in Essen), on Monday September 26th, over at the Century Media YouTube channel.
Here is the complete tracklisting of "Atoma":
Encircled
Atoma
Forward Momentum
Neutrality
Force of Hand
Faithless by Default
The Pitiless
Our Proof of Life
Clearing Skies
When the World Screams
Merciless Fate
Caves and Embers
A limited edition double CD will be available as a digipak in North America and as a Mediabook in Europe. The bonus disc features the songs "The Absolute" and "Time Out of Place" that showcase a very different side of the band. Recorded and mixed by Anders Lagerfors at Nacksving studios, these tracks are among the darkest and most brooding ever from the band—but their experimental nature make them far removed from the usual metal territory.
The band explains: "A lot of our songs start out as pieces of music written on piano/ keyboards before getting transformed into guitar driven metal. With this recording, we wanted to explore what would happen if we instead let the material take another direction, and we're extremely thrilled by the result."
These songs will exclusively be available on the physical deluxe edition of "Atoma" and won't appear on the digital edition of the album. A vinyl 7" is planned for early 2017.
The gatefold vinyl LP will contain the 12 track CD and is available in different vinyl colors:
– Black vinyl: worldwide
– Blue vinyl: limited to 400 copies exclusive through Bengans in Sweden
– Dark Green: limited to 200 copies exclusive through CDon in Scandinavia
– Clear vinyl: limited to 400 copies in North America
– Transparent Blue vinyl: limited to 300 copies exclusive through cmdistro.com in North America
– Transparent Red vinyl: limited to 200 copies exclusive available through cmdistro.com in Europe
Special pre-order bundles will be announced soon!