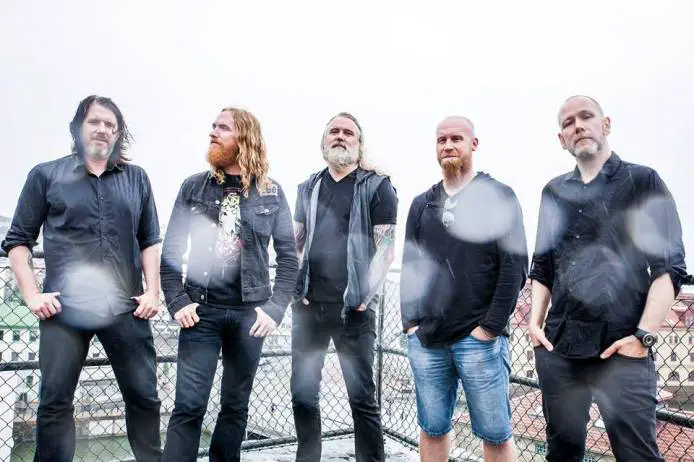 Legendary Gothenburg melodic death metal pioneers, DARK TRANQUILLITY, announced a European tour with no less than Swedish heavy metal Vikings, AMON AMARTH, and their Finnish label mates , OMNIUM GATHERUM, and also some headline shows, supporting their new album "Atoma" which was released to great acclaim earlier this month on Century Media Records.
Check out the tour dates below:
23.03.2017 Utrecht (Netherlands) – Tivoli
24.03.2017 Erfurt (Germany) – Thüringenhalle
25.03.2017 Cologne (Germany) – Palladium
26.03.2017 Ravensburg (Germany) – Oberschwabenclub
27.03.2017 Pratteln (Switzerland) – Z7
28.03.2017 Italy tbc.*
29.03.2017 Bologna (Italy) – Estragon
30.03.2017 Innsbruck (Austria) – Music Hall
31.03.2017 Vienna (Austria) – Szene Wien*
31.03.2017 Nassfeld (Austria) – Full Metal Mountain Festival (**only Amon Amarth)
01.04.2017 Linz (Austria) – Posthof
02.04.2017 Graz (Austria) – Orpheum
03.04.2017 Nürnberg (Germany) – Hirsch*
04.04.2017 Saarbrücken (Germany) – Saarlandhalle
05.04.2017 Besançon (France) – La Rodia
06.04.2017 Marseille (France) – Le Cabaret Aléatoire
07.03.2017 Bordeaux (France) – Le Rocher de Palmer
08.04.2017 Toulouse (France) – Le Bikini
09.04.2017 Barcelona (Spain) – Razzmatazz 2*
10.04.2017 Malaga (Spain) – Paris 15
11.04.2017 Burgos (Spain) – Hangar
12.04.2017 Zaragoza (Spain) – Teatro de las Esquinas
14.04.2017 Caen (France) – Le Cargo
15.04.2017 Nancy (France) – L'Autre Canal
16.04.2017 Vosselaar (Belgium) – Biebob*
*) headline show without Amon Amarth
AMON AMARTH comment, "We are having so much fun on our current European tour we decided we needed to come back and to do it again! We are definitely looking forward to playing some new places. This time we will continue the fun and lay waste to the Netherlands, Germany, Italy, Austria, France & Spain with Dark Tranquillity and Omnium Gatherum. The shows will be fantastic, beer soaked nights of heavy metal. We look forward to seeing our crazy berserker fans, and we warn you to get ready to fight, pillage and RAISE YOUR HORNS!"
DARK TRANQUILLITY follows up, "We're thrilled to announce that we'll bring 'Atoma' to the European stages early next year. We have the honour of being the main support to our countrymen in Amon Amarth on their upcoming trek. Horns up!"
DARK TRANQUILLITY are currently touring in North America. The exact dates can be found below.
Further European dates will be announced soon!
DARK TRANQUILLITY Live:
\with Swallow The Sun, Enforcer and Starkill:
25.11.2016 Rickshaw Theatre, North Vancouver, Canada
26.11.2016 El Corazon, Seattle, WA
27.11.2016 Hawthorne Theatre, Portland, OR
28.11.2016 PBJ's, Reno, NV
29.11.2016 Slim's, San Francisco, CA
30.11.2016 City National Grove, Anaheim, CA
01.12.2016 Brick By Brick, San Diego, CA
02.12.2016 LVCS, Las Vegas, NV
03.12.2016 Club Red, Mesa, AZ
05.12.2016 Trees, Dallas, TX
06.12.2016 Cine El Rey, Mcallen, TX
07.12.2016 Scout Bar, Houston, TX