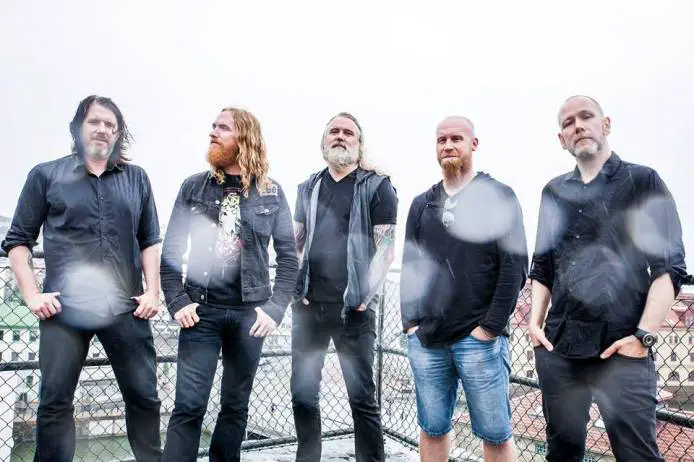 DARK TRANQUILLITY's highly acclaimed new full-length offering, "Atoma", entered the Swedish Album Charts at #2, the German Album Charts at #23 and the US billboard Top 200 Current Album Charts at #111, marking their highest chart entries in all aforementioned territories to date!
Further chart results:
Swedish Metal Charts #1
Swedish Vinyl Charts #1
Finnish Album Charts #15
Swiss Album Charts  #36
Italian Top100 #47
Austrian Album Charts #40
US Hard Music  #19
US Current Hard Music #13
US Heatseekers #3
"Atoma" was released on November 4th via Century Media Records.
You can listen to a medley of the two bonus tracks taken off the bonus disc of the Deluxe CD Editions below.
DARK TRANQUILLITY are currently on tour in North America. The exact dates can be found below.
A European tour in early 2017 will be announced soon!
DARK TRANQUILLITY Live
North America Headline tour with Swallow The Sun, Enforcer and Starkill
15.11.2016 The Agora Theatre & Ballroom, Cleveland, OH
16.11.2016 Park Street Saloon, Columbus, OH
19.11.2016 Triple Rock Social Club, Minneapolis, MN
20.11.2016 Fubar, Saint Louis, MO
22.11.2016 Bluebird Theater, Denver, CO
25.11.2016 Rickshaw Theatre, North Vancouver, Canada
26.11.2016 El Corazon, Seattle, WA
27.11.2016 Hawthorne Theatre, Portland, OR
28.11.2016 PBJ's, Reno, NV
29.11.2016 Slim's, San Francisco, CA
30.11.2016 City National Grove, Anaheim, CA
01.12.2016 Brick By Brick, San Diego, CA
02.12.2016 LVCS, Las Vegas, NV
03.12.2016 Club Red, Mesa, AZ
05.12.2016 Trees, Dallas, TX
06.12.2016 Cine El Rey, Mcallen, TX
07.12.2016 Scout Bar, Houston, TX