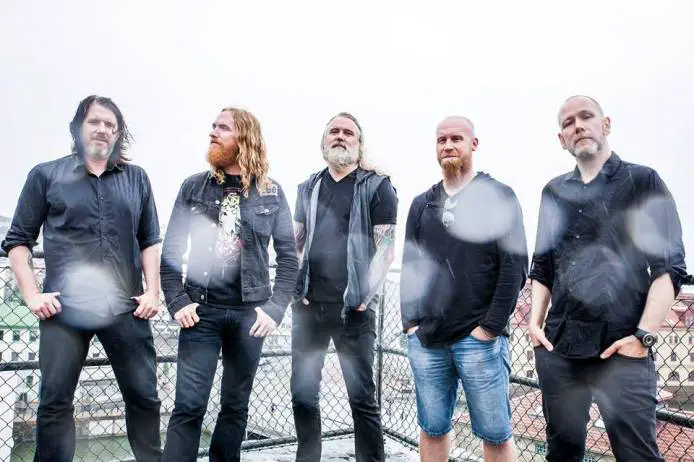 On November 4th, 2016, DARK TRANQUILLITY will release their 11th album "Atoma" worldwide through Century Media Records. The band has now released an animated video for the album's title track! You can watch it below.
The band comments: "The title track is one of the catchiest and most direct numbers on "Atoma" and already feels like a future live favourite. The first 30 seconds could be heard on one of our studio documentary clips, but here is "Atoma" in its full glory. Enjoy!"
As of now, "Atoma" is available for pre-order at CMDistro.com! The album is available as Ltd. 2CD Mediabook in Slipcase (Europe only) or Ltd. 2CD Digipak (North America only), as CD Jewelcase and Gatefold LP+CD.
The bonus disc features the songs "The Absolute" and "Time Out Of Place" showcasing a very different side of the band. Recorded and mixed by Anders Lagerfors at Nacksving studios, these tracks are among the darkest and most brooding ever from the band, but their experimental nature make them far removed from the usual metal territory.
The band explains, "A lot of our songs start out as pieces of music written on piano/ keyboards before getting transformed into guitar driven metal. With this recording, we wanted to explore what would happen if we instead let the material take another direction, and we're extremely thrilled by the result."
These songs will exclusively be available on the Ltd. CD editions of "Atoma" and won't appear on the digital album.
The gatefold LP is available in different vinyl colors and also includes the full album on CD.
Black vinyl – available worldwide
Blue vinyl – limited to 400 copies, exclusively available at Bengans in Sweden
Dark Green – limited to 200 copies, exclusively available at CDon in Scandinavia
Clear vinyl – limited to 400 copies, only available in North America
Transparent Blue vinyl – limited to 300 copies exclusive through CMDistro.com in North America
Transparent Red vinyl – limited to 200 copies, exclusively available through CMDistro.com in Europe
You can also pre-order the digital album at one of the following outlets and instantly get the tracks "Atoma" and the previously released "The Pitiless"!
iTunes
AmazonMP3
"Atoma" was recorded at Rogue Music in Gothenburg, the studio owned by D.T. keyboardist Martin Brändström. Mixing duties were handled by David Castillo, known for his work with bands such as Katatonia, Opeth and Candlemass. The striking cover artwork was once again created by the band's guitarist Niklas Sundin.
North American fans can catch the band live this fall/winter. A European tour in early 2017 will be announced soon!
DARK TRANQUILLITY live:
North America Headline tour with Swallow The Sun, Enforcer and Starkill
04.11.2016 The Gramercy Theatre, New York, NY
05.11.2016 Palladium Upstairs, Worcester, MA
06.11.2016 Trocadero Theater, Philadelphia, PA
07.11.2016 The Filmore, Silver Spring, MD
08.11.2016 Upstate Concert Hall, Clifton Park, NY
09.11.2016 Foufonues Electriques, Montreal, Canada
10.11.2016 Le Cercle, Quebec, Canada
11.11.2016 Mavericks, Ottawa, Canada
12.11.2016 The Opera House, Toronto, Canada
13.11.2016 Token Lounge, Westland, MI
14.11.2016 The Altar Bar, Pittsburgh, PA
15.11.2016 The Agora Theatre & Ballroom, Cleveland, OH
16.11.2016 Park Street Saloon, Columbus, OH
19.11.2016 Triple Rock Social Club, Minneapolis, MN
20.11.2016 Fubar, Saint Louis, MO
22.11.2016 Bluebird Theater, Denver, CO
25.11.2016 Rickshaw Theatre, North Vancouver, Canada
26.11.2016 El Corazon, Seattle, WA
27.11.2016 Hawthorne Theatre, Portland, OR
28.11.2016 PBJ's, Reno, NV
29.11.2016 Slim's, San Francisco, CA
30.11.2016 City National Grove, Anaheim, CA
01.12.2016 Brick By Brick, San Diego, CA
02.12.2016 LVCS, Las Vegas, NV
03.12.2016 Club Red, Mesa, AZ
05.12.2016 Trees, Dallas, TX
06.12.2016 Cine El Rey, Mcallen, TX
07.12.2016 Scout Bar, Houston, TX