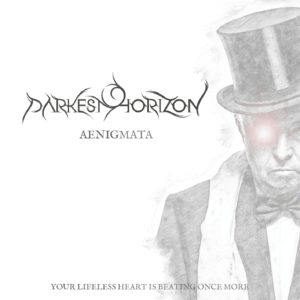 The addition of symphonic features into Metal music was a great gain. It's no surprise that Extreme Metal bands are tending to use them due to epicness and grandness they add to songwriting. It's another way of making one's music more complex. Of course, there's always the risk of making the song too complex and too grand and leave behind the energy and power that HM is all about. But most bands are aware of it and struggling to avoid that kind of loss. As I've told zillions of times, the contrast between Metal features and symphonic ones is great to my ears. Melodic Death Metal takes this contrast to another level, I must say. I appreciate that a lot.
Darkest Horizon with "Aenigmata" drink profusely on the stormy waters of Melodic Death Metal with the aforementioned generous addition of symphonic features. This addiction made "Aenigmata" an album with even more layers of sounds than the regular Death Metal band. Towards a regular, and neat, HM instrumental, there are the symphonic features plus the contrast of harsh vocals. But Darkest Horizon don't simply add symphonic instrumental as they are built to establish different layers of sounds. There are in "Aenigmata" the same principles that conducts the songwriting of a symphony. Instruments are though of being a part of something bigger and not only to complement, but also to tell different stories.
Darkest Horizon "Aenigmata" built very interesting guitar interventions in songs. They add melody and some  melancholy to songs as in "Cryonics." Though, in "Pandora" there are touches that puts it near the border of industrial metal due to the addiction of electronic elements. All the pompous effects of symphonic features can be deal with in "Elysium" and "The Spectral Hours," two very complex and grand tracks with an outstanding piano. Extreme care is the glue that bonds all tracks together in "Aenigmata." It's noticeable that Darkest Horizon built up each track with all the care possible. "Aenigmata" isn't a linear album in which one can predict the next track. Darkest Horizon avoided as possible the sameness and gave us a very interesting album.
Darkest Horizon "Aenigmata" was released on October 6th.
Track Listing:
Omnipotence Paradox
Enigmachina
Tempus Inversus
The Lunnar Effect
Cryonics
Pandora
Elysium
The Spectral Hours
Catharsis for a Heartbeat
Watch "Cryonics" official music video here: