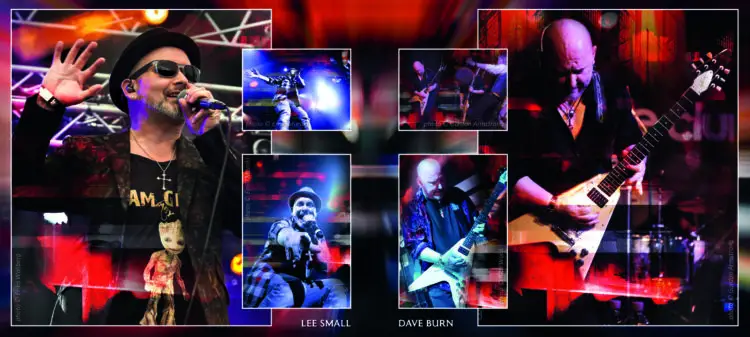 Guitarist, Dave Burn hails from Newcastle Upon Tyne in the North East of England. Playing with various bands in the pubs and clubs of the North East, many notorious for it's difficult audiences, Dave gained a great reputation for his lead guitar work. In 1999 Dave performed in the Guitarist of the Year competition, held a London's Wembley IECC, reaching the final as one of only five finalists out of a total of 1100 entries for that year.
Dave has recorded a staggering twenty four albums: seventeen solo, three with the UFO tribute band UUFO, two albums with 'nobody's fool' and two with the late Paul Raymond (UFO, MSG, Waysted, Chicken Shack), who sadly passed away in 2019. Dave also toured with Paul as his lead guitarist with Paul and his band PRP (Paul Rayond Project).
Vocalist, Lee Small has recorded and performed with a vast number of rock bands: Shy, Phenomena, Lionheart, Signal Red, Kings Crown, Sweet, Arkhams Razor, Gronholm, Lifeline, Skyscraper, United Nations, Snowfall, Omega, Surveillance, Native Cain & Pride. In Addition, Lee Has Guested With Magnum (On 3 Albums), Dante Fox, Ian Danter, Iconic Eye, Huwey Lucas, Ginger, The Wildhearts, Cloven Hoof & Pulse.
With his wonderful soulful voice & trademark vocal melodies, Lee Adds extra depth and colour to this album, "Nothing As It Seems."
Multi-instrumentalist, Lee also plays keys and strings on the track, "Darkest Hour."

Band Line-up:
Lee Small: All vocals. Additional Lyrics and all Vocal Melodies – *Keys and strings on 'Darkest Hour'.
Dave Burn: Guitars, Bass, Drum Prog., Keys and Strings. Lyrics and Music, Engineering and Production.
Read our review here.