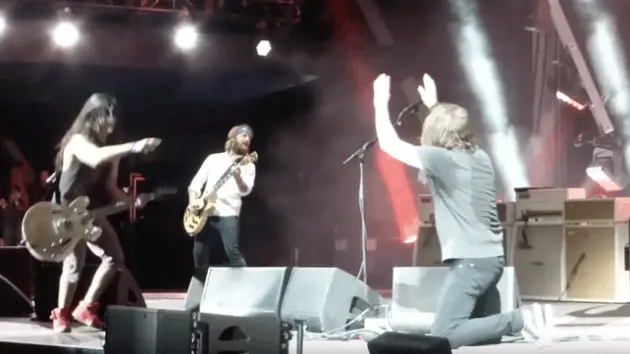 Following FOO FIGHTERS' recent impromptu performance with the KISS Guy, a portion of fans began speculating that the whole thing was staged and that the band has people in the crowd prepared to perform these stunts.
Dave Grohl addressed the rumors during a recent show, telling the crowd: "Nowadays it happens every fuckin' night. I look out and I'm like, 'Man, I don't want some ding-dong to come up here and sh*t the bed in front of their hometown.'
"They never do! Anytime we've ever seen someone come up onstage with us, it is not planned, we have never met the motherf*cker before in our lives.
"Has anyone seen the KISS Guy? Who has seen the KISS Guy? KISS Guy was a bad motherf*cker. But I don't know how long ago it was, maybe like a month or two months into it, I know you fuckin' know. One night we brought up this kid to come play drums on stage with us. He was good."