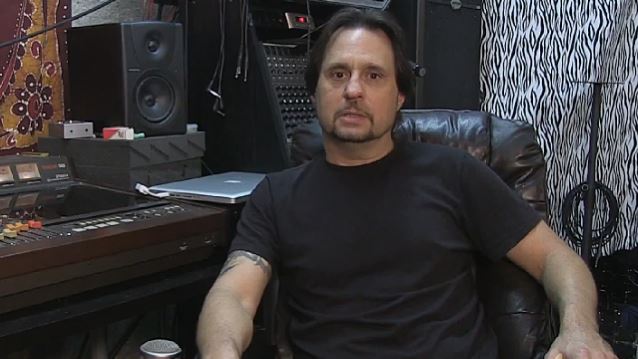 In a new interview with BAD WOLVES' Doc Coyle, original SLAYER drummer Dave Lombardo was asked if he felt any sadness or if he had any regrets about the fact that he didn't take part in the band's final tour.
"When I was [still] in the band, I knew Tom [Araya, bass/vocals] wanted to retire," Lombardo responded. "I knew he wanted to stop. Actually, Kerry [King, guitar] and I were gonna start a new band after Tom's retirement. And we were actually scouting guitar players.
"And SLAYER was playing Hellfest [in France], and we said, 'Hey, let's go see EXODUS.' And so Kerry and I walked over to the stage where EXODUS was playing, and we stood on the side of the stage, stage left, and were watching Gary [Holt]. 
Jeff [Hanneman] was still in SLAYER at that point, Jeff was still playing, Jeff was fine. And I told [Kerry], I go, 'There's our guy right there,'" referring to Holt. "'That's the guitar player we need.' And it just turns out that, as life went on, we needed to replace Jeff [and Gary stepped in].
"We didn't tell Gary — I don't think we had told Gary that Kerry and I were going to start a new band, but he was the first choice when that moment came [to replace Jeff in SLAYER]. And I agreed, everybody agreed. And Jeff agreed as well, because he knew — he knew.
"As far as I'm concerned, I played the first show with the original SLAYER, and I played the last show with the original SLAYER, and I'm happy with that," he continued. "It was a brilliant band. We made some history. And I wish them well. But there's nothing, man. I'm happy in my world, man. The best way is just to keep moving forward. I look at the future."
In a new interview with Australia's Riff Crew, SLAYER drummer Paul Bostaph has confirmed to be working on a new musical project with Kerry King.
Kerry King's post-SLAYER project has been rumored to feature SLAYER drummer Paul Bostaph, SLAYER/EXODUS guitarist Gary Holt and former PANTERA frontman Philip Anselmo.
Lombardo was effectively fired from SLAYER after sitting out the group's Australian tour in February/March 2013 due to a contract dispute with the other bandmembers. He has since been replaced by Paul Bostaph, who was previously SLAYER's drummer from 1992 until 2001.
SLAYER played its final show of their farewell tour last November at the Forum in Los Angeles. One day later, Kerry's wife, Ayesha King, said that there is "not a chance in hell" that the thrash metal icons will reunite for more shows.