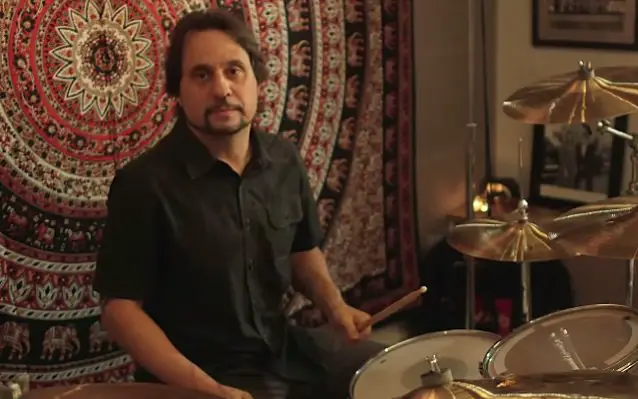 TESTAMENT discussed the return of drummer Dave Lombardo to the group's ranks during a yesterday's appearance on SiriusXM's Liquid Metal with host Jose Mangin.
Lombardo was previously the guest drummer on TESTAMENT's 1999 studio album The Gathering.
When asked if he had to physically audition for the drummer spot in TESTAMENT this time around, Dave responded: "I just sent them a link to my Wikipedia. 'I've done these records, including one of yours. Can I come back?' [Laughs]"
Lombardo went on to say that he reached out to the TESTAMENT camp the same day that the band announced it was splitting with its longtime drummer Gene Hoglan.
"I was still asleep, and my wife, she just said, 'Hey, Gene just left TESTAMENT,'" Dave continued. "And she's been always telling me, 'Man, I can't wait for you guys to get together for that Gathering reunion.' 'Cause we had been talking about this two and a half, three years ago — before the pandemic. And so I immediately — I didn't even get my other eye open and I was texting [TESTAMENT singer] Chuck [Billy].
"I said, 'Hey, man, what's going on?' I don't know exactly what I mentioned in my text, but it was very simple, 'Hey, what's happening?' And he immediately called me back. And I remember Tiffany [Chuck's wife] was on the phone; Chuck was on the phone. We were, like, 'Hey.' It was a great come-together moment, like, 'Hey, here we go. This is the moment we've been waiting for.'"
"The Gathering reunion didn't have to happen putting Gene out, separating Gene and saying, 'Gene, we're gonna go with Dave for a while now.' Nothing like that happened," he added. "This happened organically. And it happened at a time where my other bands, two of the bands that I have, MR. BUNGLE and DEAD CROSS, [Mike] Patton sings in them and he's trying to get healthy and is taking a little hiatus. And SUICIDAL TENDENCIES hasn't been touring much lately. So that leaves me with a lot of little odd projects here and there that I work on in my free time. So it just felt like the right moment.
"I know it can be deceiving because I am in so many different bands, but there's 24 hours in a day and I only sleep eight hours, or seven to eight hours, so that leaves me 16 other hours. And I don't take Saturdays and Sundays off. So it was a no-brainer."
Chuck said: "Right when it happened, it was within minutes after the announcement [of Hoglan's departure]. "And Dave doesn't remember, but [his text message to me was] simply 'Lombardo?' That was the text. I'm, like, 'You're sh*tting me. Tiffany, Lombardo just wrote me, 'Lombardo?" I called him right away. I said, 'Hey, dude, what's happening?' He was, like, 'Dude, I heard the news.' I'm, like, 'Dude, I would have called you right away, but I just thought it was kind of far-fetched for you to kind of jam because I know you're probably pretty busy with all the other projects going on.' And he was, like, 'No. I've got a big opening and I'd love to get back.' And we talked about 'The Gathering', doing that again. And here we are — it could be a reality to get to play 'The Gathering' like we spoke of."