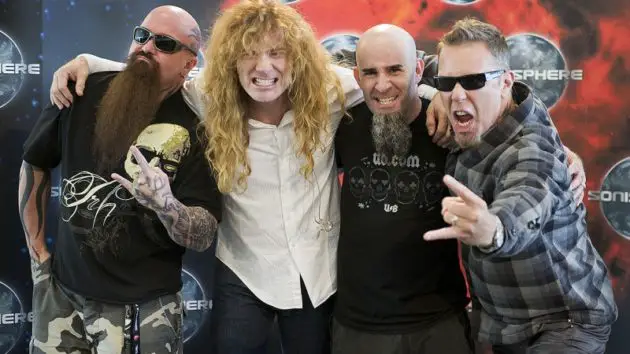 MEGADETH mainman Dave Mustaine has once again said that there should be at least one more "Big Four" concert.
In a new interview with Greg Prato of Songfacts, Mustaine discussed the possibility of more "Big Four" shows, saying: "I really think it's time for the guys in METALLICA to step up and us do one last round, see if we can get SLAYER to come out of retirement and do a 'Big Four' passing of the torch to the new 'Big Four'. It would remain to be seen who they are.
"I think it would be really cool symbolically if we did something at, like, the L.A. Coliseum, even if it's one show and that's it. SLAYER is from Los Angeles, so it would probably make it more convenient for them to go home at night. I personally have been hoping for this for a while, and I keep asking and asking and asking. They're just not into it. But that's up to them."
In a 2021 interview with Metal Hammer, SLAYER guitarist Kerry King was asked if SLAYER would do any more "Big Four" shows if they happen in the future, to which he responded: "I would! But the way that I'm moving forward is I don't think SLAYER are ever going to play again. There's no business of me playing by myself! Ha ha!"
On June 16, 2010, the so-called "Big Four" of 1980s thrash metal — METALLICA, MEGADETH, SLAYER and ANTHRAX — played together for the first time in history to an audience of 81,000 at Bemowo Airport in Warsaw. They were part of a six-show billing as part of Sonisphere series that year.
They reunited again for several dates in 2011, including the last "Big Four" concert, which was held on September 14, 2011 at Yankee Stadium in New York City. Since then, METALLICA, SLAYER and ANTHRAX have played a number of shows together, including the 2013 Soundwave festival in Australia. They also performed at the 2014 Heavy MTL festival in Montreal, Quebec, Canada.
SLAYER played its final show of their farewell tour in November 2019 at the Forum in Los Angeles. One day later, Kerry King's wife, Ayesha King, said that there is "not a chance in hell" that the thrash metal icons will reunite for more shows.