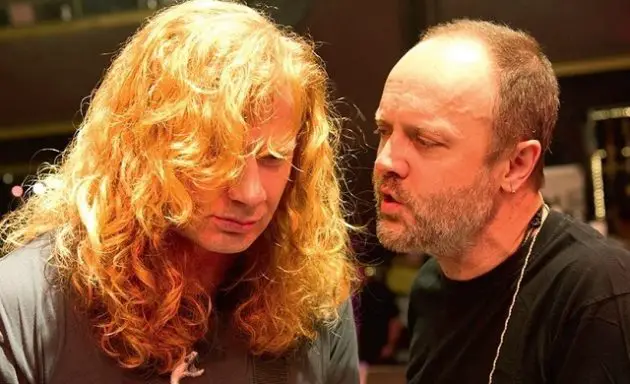 In a new interview with Kerrang! Magazine, MEGADETH mainman Dave Mustaine looked back on the "Big Four" tour, while also discussing his current relationship with METALLICA.
When asked how hard was it to make Big Four shows happen, Mustaine responded: "It wasn't really that hard for me to make happen. Basically, all I needed to do was agree with them. We were out on the road and our then-manager said Metallica was talking about doing it. My reply was, ​'As long as it's the Big Four and not METALLICA and the three amigos, I'm down!' The first show was in Poland [in 2010] and Metallica hosted a ​'welcome to the tour' party. We all went to break the ice."
​"I think there was a lot of expectation that I wasn't going to be happy, but I was very happy," he continued. "People thought I might cause problems, but I was content with the whole thing, though for some of the shows I felt we should have all been on the same stage."
Asked if he think there will be more "Big Four" shows in the future, Dave said: "Honestly? No. I would love for there to be more, and I'd be willing to do it. But remember, SLAYER are retired, and for some reason, Lars [Ulrich] is afraid of doing more Big Four shows. He'll tell you it's already been done, but I think the fans want it. The heavy metal community wants more Big Four shows."
On when was the last time he spoke with James Hetfield and Lars, Mustaine said: "The last time I spoke to Lars was at the 30th anniversary METALLICA gig [in December 2011]. And the last I heard from James was when he called to talk about the [METALLICA demo] No Life ​'Til Leather re-release. He was trying to get me to give publishing over to Lars, despite James and I being the sole songwriters. Lars wanted a percentage and I just said no.
"I love James, he's a terrific guitar player, but yeah, I can't do that. The songs are already out there. I'm not going to release something just to have a product to sell — especially if they are perpetuating false information. Lars did not write the songs. It was just me and James. Period."