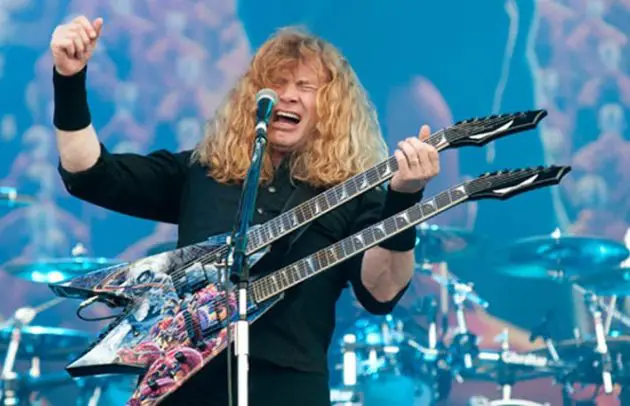 MEGADETH mainman Dave Mustaine has apparently left Dead Guitars and joined Gibson.
Last night, MEGADETH shared a teaser video for what appears to be an official announcement that will come on February 23. Captioned "Countdown. 2.23.21," the 14-second clip features the MEGADETH mascot Vic Rattlehead walking through a cemetery before drawing a katana to reveal "Rust In Peace" etched on the blade. The video closes out by directing the viewers to visit Gibson.com.
Announcement comes two months after a employee for Gibson accidentally leaked an image of a guitar that some devoted guitar aficionados speculated could be Mustaine's new signature model. (Watch video below.) The same prototype model was also spotted in an Instagram post by Gibson CMO Cesar Gueikian.
In a recent interview with U.K.'s TotalRock Radio, MEGADETH bassist David Ellefson discuss how global pandemic will impact on releasing band's upcoming album.
"We're working on album number sixteen, and just finishing it up now," Ellefson said. "We've got a big year of touring lined up — festivals in Europe; the big 'The Metal Tour Of The Year' is rescheduled for July and August this year; Rock In Rio in Brazil in September. And it's all confirmed, but it depends on what — COVID has a say in this matter, unfortunately.
"So there's this undecided third factor spinning over there with the pandemic that we're just all doing the best we can to play around that," he continued. "And the same with the MEGADETH release schedule, being able to put things out. We're gonna wanna be able to get on the road and promote it. It doesn't make sense to drop a brand new record in the middle of a pandemic and not be able to support that.
"And so if that means we have to push things back a little bit so that it can be the most effective to tour it and support it, then I'm sure those are decisions that are being made… Quite honestly, those are decisions that get updated pretty much weekly inside the MEGADETH camp."
MEGADETH should kick off its "Metal Tour of the Year" with LAMB OF GOD, plus special guests TRIVIUM and IN FLAMES, this year. Tickets and dates for the tour can be find here.